La Tortuga Viva Turtle Sanctuary
Help Save Baby Turtles
Each year thousands of Green (Golfina) Turtles and dozens of endangered Leatherback (Laud) Turtles come to the shores of Playa Viva to lay their eggs. The turtles come to nest year round, with the peak period of egg laying during the rainy season, between May and September. Over the past 50 years of commercial exploitation, poaching, and degradation of nesting and foraging habitats, most species of marine turtle have been placed on the endangered species list.
The Playa Viva Turtle Sanctuary was founded to protect turtles from predators and poachers alike. The Turtle Sanctuary at Playa Viva is staffed by an all-volunteer team comprised of members from the local community of Juluchuca. The turtle sanctuary, "La Tortuga Viva", which translates to "The Living Turtle", and its team of volunteers receive training and minimal support from SEMARNAT, the Mexican Department of Environmental Protection. The operation of La Tortuga Viva is a labor of love.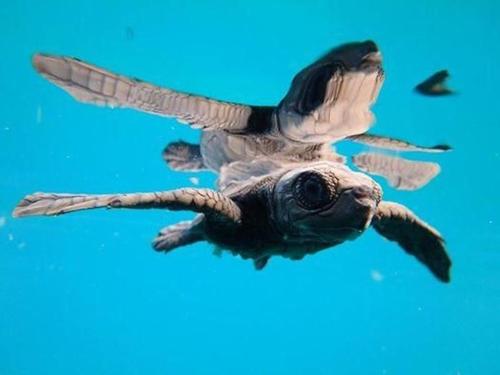 Playa Viva supports the sanctuary by helping to raise funds for needed equipment such as 4x4 ATV vehicles, gas, rain ponchos, paint, fencing, and more including food stipends for the volunteers. The volunteers come to the sanctuary in the late afternoon when eggs have been laid, and they work all night. They patrol the beaches and look for turtles or turtle tracks, collecting nests buried in the sand, and bringing them to the sanctuary just as the mother turtle left them. The eggs are kept safe within a protected incubation pen that keeps them out of the reach of predators.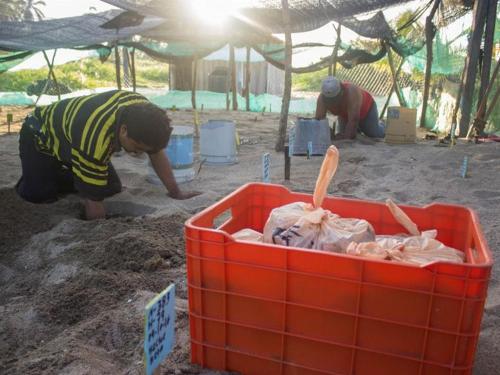 The nests are marked with the number of eggs, the date the eggs were laid and the date they are due to hatch. Golfina eggs take about 45 days to hatch and Laud take about 60 days. Golfina eggs are the size of a ping pong ball and Laud eggs are the size of a billiard ball. When the baby turtles begin to hatch, the volunteers safely remove them from the incubation pen and get them ready to enter their ocean home for the first time. We invite you to join in the collection of eggs as well as the return of the baby turtles to the ocean. This is truly an experience of a lifetime.
For updates and statistics of the work by La Tortuga Viva, visit A Sense of Place, the Playa Viva blog.
Donate Now
Help support the Turtle Sanctuary and protect the baby turtles. Each donation of $25 will protect 100 baby marine turtles. Scientists estimate that only 1 in 100 baby turtles survive to adulthood, and your donation may help raise the odds that more survive. Your donation below is processed via our fiscal sponsor, The Ocean Foundation, making any donation for US citizens tax deductible. Thank you for donating.