Volunteering at Playa Viva
Information and Frequently Asked Questions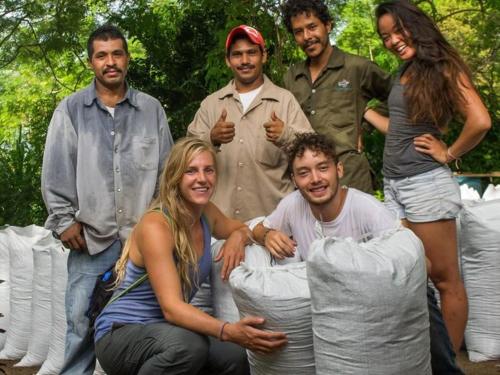 Over the last 5 years, we've had many volunteers come to participate in our work exchange program. Volunteers assist in organic farming, assist our kitchen staff to prepare healthy recipes, work in permaculture and restoration, teach English in the local schools, help in the health clinic, work in our turtle sanctuary, or take on any relevant personal projects in the community or at the hotel.
Our volunteer program is structured so that you get back what you put in. This is an opportunity for personal and professional growth; as such, we are looking for dedicated volunteers with an interest to fully contribute and make a difference in our local community and to our project.
To find out more, read our FAQs below: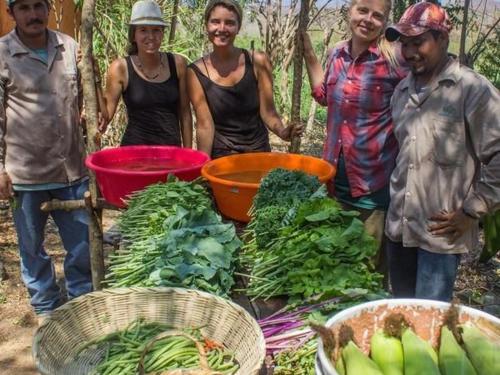 Is Volunteering Right For Me?
Are you interested in sustainable agriculture, permaculture, conservation, rural community development, health, nutrition, or simply helping to "make a difference"? Do you enjoy working outside, living in small, rural communities, Mexican food and culture, and enjoy hot weather near the sea? If you answered yes to more than one of these questions, then volunteering at Playa Viva may just be the right fit for you.
Our volunteers are expected to work hard and carry themselves in a professional manner. As a volunteer, you are treated as staff, not a guest of the hotel. As such, if you're looking to just hang out at the beach of the hotel, this experience is not for you.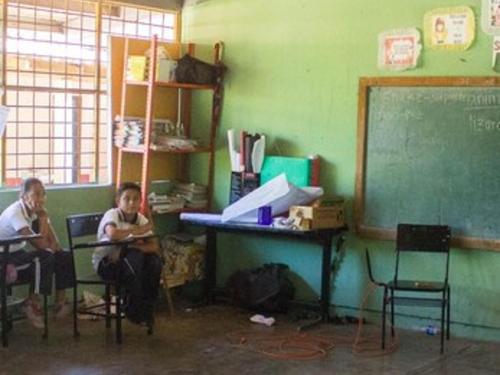 What type of work is available?
Volunteers have the choice of working in projects on hotel property (organic farming, permaculture, food preparation,) as well as in the community (teaching English or other skills, health and nutrition at the community clinic/kitchen, and working with La Tortuga Viva).
Kitchen/Farm to Table
For those interested in cooking and passionate about making food have the option to work with our kitchen. Volunteers can just lend a helping hand or work with our chefs to create new and innovative dishes, work with the farm team and chefs to source more from our own garden and utilize the abundance that is produced on Playa Viva's property.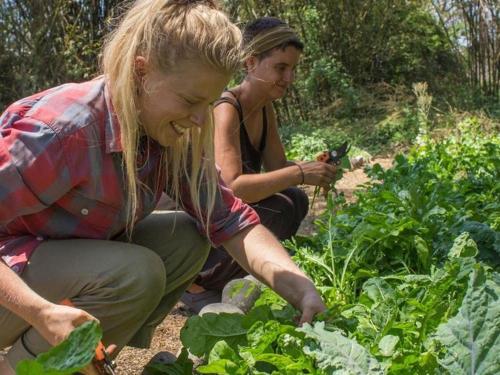 Farming
Working with the farm team will involve planting, sowing, sprouting seeds, weeding, mulching, making organic fertilizers and insecticides, tending to compost, some construction maintenance (e.g. greenhouse) and harvesting crops (and everything in between).
Permaculture
Working with the permaculture team will sometimes involve slightly more demanding physical labor such as shoveling, trail maintenance (involves working with a machete and can involve heavy lifting), removing invasive species, and cleaning/tending to water irrigation systems.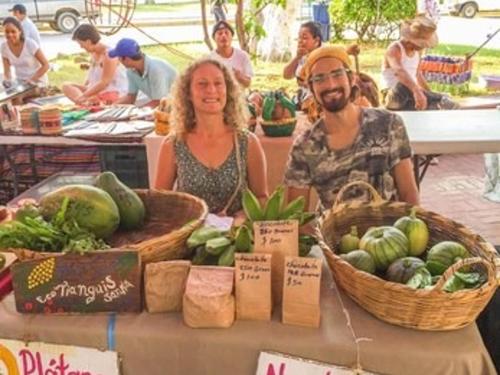 Local Food Systems
Volunteers also have the option to work the Eco Tianguis Sanka where we sell our extra farm produce. The Eco Tianguis is a local organic market in Zihuatanejo that occurs every Saturday from 9am to 2pm where local vendors/farmers sell organic produce, prepared foods, mezcal, coffee, honey, organic skin products and various artesanías.
Community
Volunteers also engage in the community through offering English classes in the schools and to adults in the public library. We are continually working to improve the continuity and consistency of offering English classes to the local community, so any support you can provide in this area is overly welcome. English volunteers are asked to write a progress report on what you achieved and what you were last working on so that the next volunteer can pick up where you left off. English volunteers are asked to stay for a minimum of 2-3 months.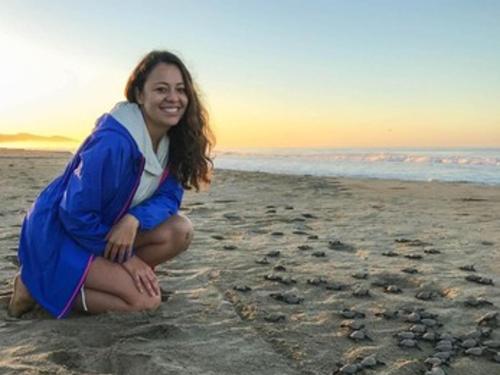 La Tortuga Viva
For those conservation inclined, another option of getting involved in the community is working with Campamento Tortuguero La Tortuga Viva. Fourteen volunteers from the local community run this local non-profit which began in 2001. Every night a pair of volunteers patrols 10-15 km of beach looking for nests/nesting momma turtles. Volunteering with the sanctuary includes but is not limited to: attending nightly patrols, overseeing nest relocation, data collection, entry, & analysis, organizing hatchling release for hotel guests, community engagement/education, research to ensure conservation/tourism best practices, and helping to develop quarterly reports (to feed into Annual Report for our fiscal sponsor, The Ocean Foundation).
Health Clinic
Volunteers who are students or graduates of medical school have the opportunity to volunteer at the local health clinic in Juluchuca (they provide very basic services) or at the hospital in Petatlán. Please present your ideas and/or interest in this role to the Volunteer Coordinator.
Other Areas
If you have another skill or knowledge that you believe would be beneficial to the community, please present your ideas to the Volunteer Coordinator. S/he will consult with community members to see what skills and/or knowledge is desired and can help coordinate your activity to see if it's in demand (e.g. teaching yoga or another, computer skills, farming/building techniques, etc.).
Logistics about the Program
What is the schedule like?
The work day is scheduled in two shifts: from 7am to 10am and 11am to 2pm. Each volunteer has the option (not required) to develop a personal project, which can either be on the farm or in the community. These projects are to be completed after the morning break at 10am, and you can choose from a range of activities or bring your own specialized skills. Delicious Mexican meals are provided at 10am at the resort, and lunch is served at 3pm.
Do you host students or internships looking for research opportunities?
Yes! We have a few positions available for volunteers looking to receive professional development experience or academic credit in conservation, permaculture, ecology, or organic farming. Please email the Volunteer Coordinator for more information on these programs (volunteer@playaviva.com). High intermediate to advanced fluency in Spanish is required for these roles.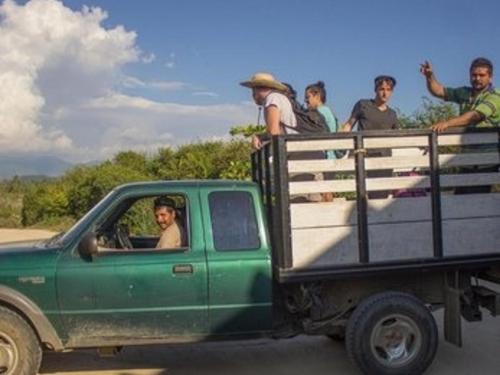 Do I need to speak Spanish?
To a certain degree, yes. We ask that volunteers have enough to "get by". This means being able to have at least a casual conversation; i.e. you are comfortable talking about where you're from, the weather, about your family, and can understand basic commands. Naturally, the more fluent you are the more you will get out of the experience.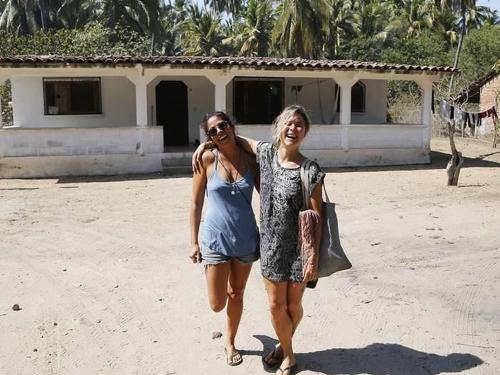 What do I receive in exchange for my service?
Volunteers are provided with two meals per day at the hotel (5 days per week, and 1 meal on Saturdays, i.e. your working days) and shared housing with other volunteers in the town of Juluchuca, a very authentic Mexican community. Sunday is your 'descanso' (rest day) so meals are not provided at the hotel. The Volunteer House, "Casa Blanca", is a small 3-bedroom house in the "center" of town that accommodates 4-5 volunteers. It is equipped with mosquito netting, fans for each volunteer, and a kitchenette (full-size fridge, and two electric burners for basic cooking). You'll find that meals at Playa Viva are quite hearty and usually some sopes and tacos for dinner are all you need!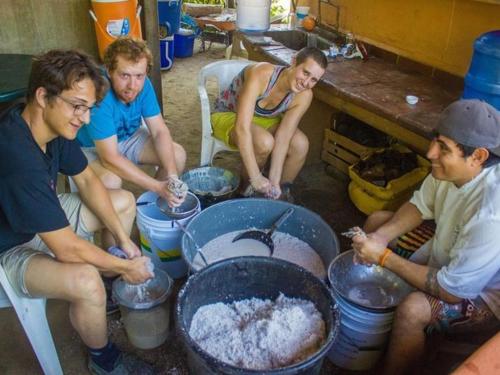 How many other volunteers are there at one time?
The volunteer house capacity is 5 volunteers. Depending on the season, you may be sharing the house with just one other volunteer or up to four others.
How much should I anticipate to spend during my service?
Cost of living in Juluchuca is very low. For reference, a plate of three tacos cost roughly 20 pesos (about 1USD) and a beer about 15 pesos (roughly 80 cents). The larger cities of Zihuatanejo and Ixtapa are naturally more expensive, but in general life around Juluchuca is pretty inexpensive. You can expect to budget about 100-200 USD per month, depending on the activities you decide to get into on the weekends.
What are the benefits of serving at Playa Viva?
As a PV volunteer you will have the opportunity to contribute to a regenerative development project that is actively working to restore the land and the economic well-being of a community. You also have the opportunity for rich cultural exchange in which you can share the diversity of your home culture while also learning from the diversity of Juluchucans. Additionally, you will also learn about the diversity of your fellow PV volunteers and learn to respect differences while serving together. The benefits of this cultural exchange include improving language and other new skills, making new and lasting friendships, becoming acquainted with another country, its people, and its culture, and making a contribution to Mexico's economic development.
Is there a minimum time commitment?
Yes. We ask that volunteers commit six weeks to two months of service. (Only in some cases do we make exceptions for those with a certain degree of experience.) We found have that this is the minimum amount of time needed for both volunteer and hotel to get back what she/he put in (i.e. their return on investment). If you are taking on a special project, think about the amount of time you'll need to complete it, and then double or triple that time (we are in Mexico, after all). Special projects are appropriate for volunteers who can commit to at least 3 months.
How do I apply?
To apply, please fill out our short online application. If you qualify, the Volunteer Coordinator (VC) will send you the info packet for prospective volunteers and other material for you to study prior to an online interview. The VC will also contact you to set up a mutually agreed time for a Skype or Google Hangout interview. After the interview you will be notified if you are accepted.
Please Note:
One thing that's important for volunteers to understand is that you live in Juluchuca, our host community, and NOT at the resort. Juluchuca is a small traditional Mexican town with dirt roads and roughly 400-500 inhabitants. The people of Juluchuca are vibrant and extremely welcoming, although bear in mind that most don't speak any English.
The amenities in town are basic, but we do have a small health clinic, internet connection, and public transportation to some of the larger cities.
We are located about an hour south of Zihuatanejo by bus.
If you have any further questions, please direct them to our Volunteer Coordinator: volunteer@playaviva.com
Volunteer Testimonials:
What did you most enjoy about your experience?
"Working with the homies on the farm. They were super welcoming. The work was enjoyable and different every day. Likewise, living in Juluchuca was great, an awesome town that truly felt immersive. I also thought Nick was an amazing connection and support to me while working with the Tianguis. It was great to have Melissa's support and his while pushing forward on farm system work. I thought the degree of independence given to me was amazing and I appreciated it a lot. Also the jumping into the ocean was dope and letting volunteers use the Playa Viva facilities respectfully." - Farm Volunteer
"Mi experiencia como voluntaria fue excelente. Trabajé en diferentes áreas del hotel y pude conocer parte del trabajo que se lleva a cabo en cada una de ellas, desde limpieza hasta producción de comida. Así mismo, todo el personal del hotel es muy amable y las conversaciones con ellos son agradables. Por otro lado, vivir en casa blanca y convivir con los demás voluntarios también fue valioso para mí porque pude practicar otro idioma y compartir experiencias y vivencias con ellos. Además de que al estar en un lugar tan tranquilo me fue muy fácil disminuir mi ritmo de vida" - Sustainable Tourism Volunteer
"I really enjoyed working with the guys on the farm and living in Juluchuca. I also liked the daily structure, watching the sunrise every day, having two manageable shifts and delicious meals, and relaxing at the end of the day." - Farm Volunteer
"Working on the farm, the social life and exchange with the co-workers, the possibility of getting in touch with more people through the farmers market, the village life, the calm, the nature." - Farm Volunteer
"I loved getting to know the staff members and everyone in Juluchuca. I also loved working in the kitchen and interacting with the guests." - Kitchen Volunteer
"I enjoyed many things about my experience. Living in Juluchuca was amazing, I really enjoyed interacting with the locals. I also really enjoyed working in the kitchen and learning new recipes from the staff." - Kitchen and Farm Volunteer