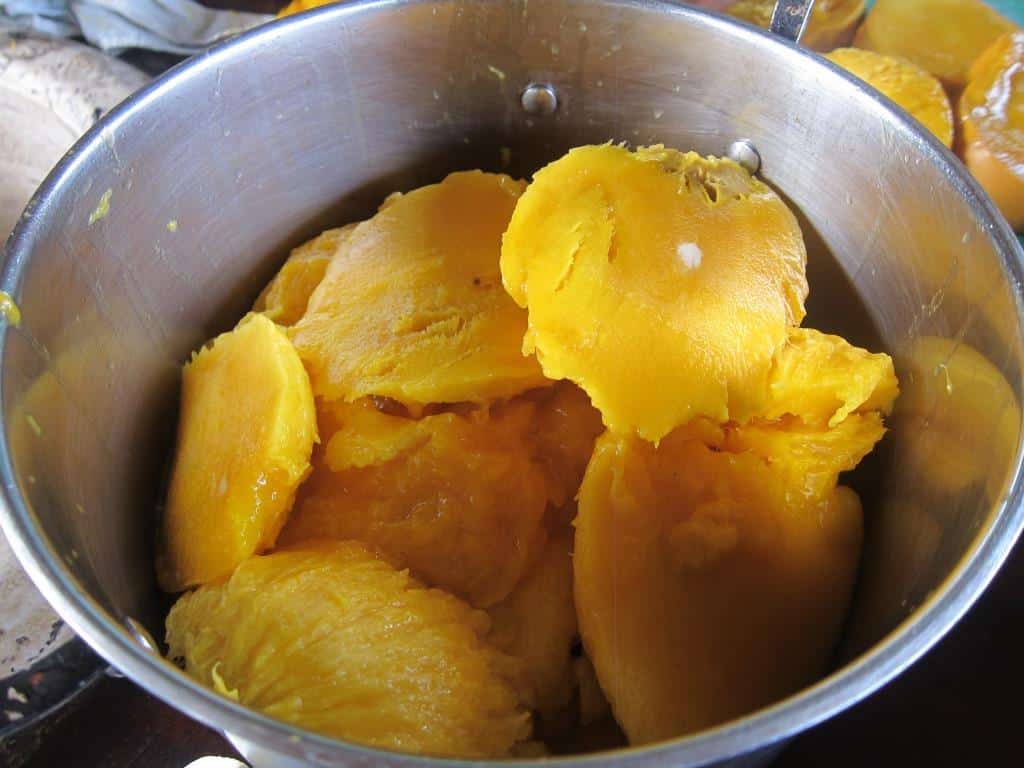 Ernesto Leon Sandoval, more commonly known by his nickname, Pato, lead a workshop at Playa Viva recently that included dehydration, chutney and frozen puree as methods to preserve excess mangos harvested at Playa Viva.  See photos below along with the comments, in Spanish, from Julia.  As sustainable and regenerative hoteliers, the best part of this entire process was the news at the end of Julia's comments, that even though the process of dehydrating fruit was new to the staff, they were so excited by this workshop that they are want to take this process home and apply it to the excess fruit on their land.
Here is the Pato's recipe for the Mango Chutney pictures below:
para 5 kilos de mango – for 5 kilos of mangoes
5 cucharadas de aceite de oliva o mejor de coco – 5 Tablespoons of oil, either olive or better yet coconut oil
5 cucharadas de canela molida – 5 Tablespoons of ground cinnamon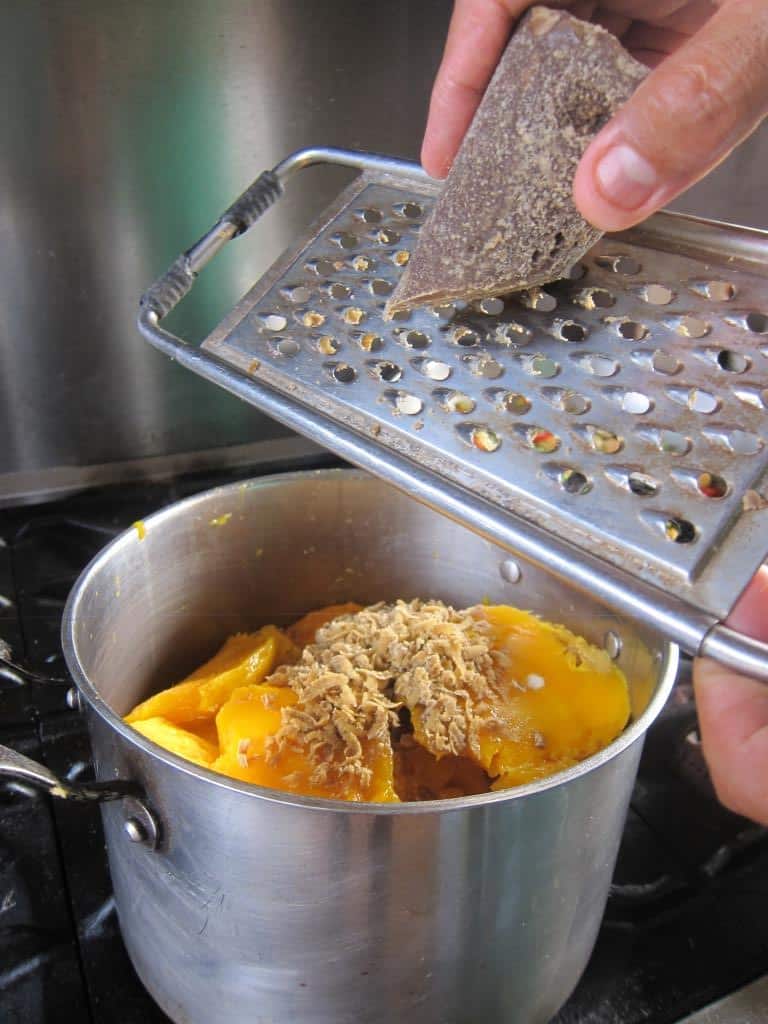 2 barras de piloncillo rallado
– 2 Bars of grated piloncillo (brown sugar bars which can be purchased in a Mexican food store)
un diente de ajo grande – One large clove of garlic
el jugo de 5 a 10 limones – Juice from 5 to 10 limes (green Mexican limes)
4 cucharadas de clavo picado – 4 Tablespoons of ground clove
4 cucharadas de pimienta molida – 4 Tablespoons of ground black pepper
4 cucharadas de jengibre picado – 4 Tablespoons of chopped ginger
It appears that Abraham, Playa Viva's chef, added raisins and black sesame seeds to taste.
Pato provided the ingredients only, seems that these are all mixed together and cooked to desired consistency and then placed in jars which are then sealed (if not familiar with this process see canning instructions available elsewhere on the internet).
Julia's comments about the workshop: ​Es un taller muy sencillo y muy facil de comprender así como muy útil, porque nos va a permitir aprovechar la fruta madura, en lugar de dejarla podrir ahora la vamos a poder deshidratar y comer durante todo el año, queda muy sabrosa, dulce pero natural. Es bueno aplicar esta técnica sobre todo al tipo de productos que se cosechan una o dos veces por año solamente y no los puedes guardar en su estado natural por tanto tiempo, ni refrigerar porque no hay espacio.
El equipo lo tomó muy bien, abraham se comprometió con su equipo de cocina a hacerse responsables del procedimiento, ya que por razones de higiene es mejor que sean ellos mismos quienes la procesen. Claro que el equipo de Permacultura estuvo presente, participó  y aportó todo lo necesario, Serafin y Arturo  construyeron la mesa y también estuvieron interesados en el proceso.
  Lo interesante es que ahora ellos quieren hacer lo mismo en sus casa para aprovechar los frutos de sus parcelas.