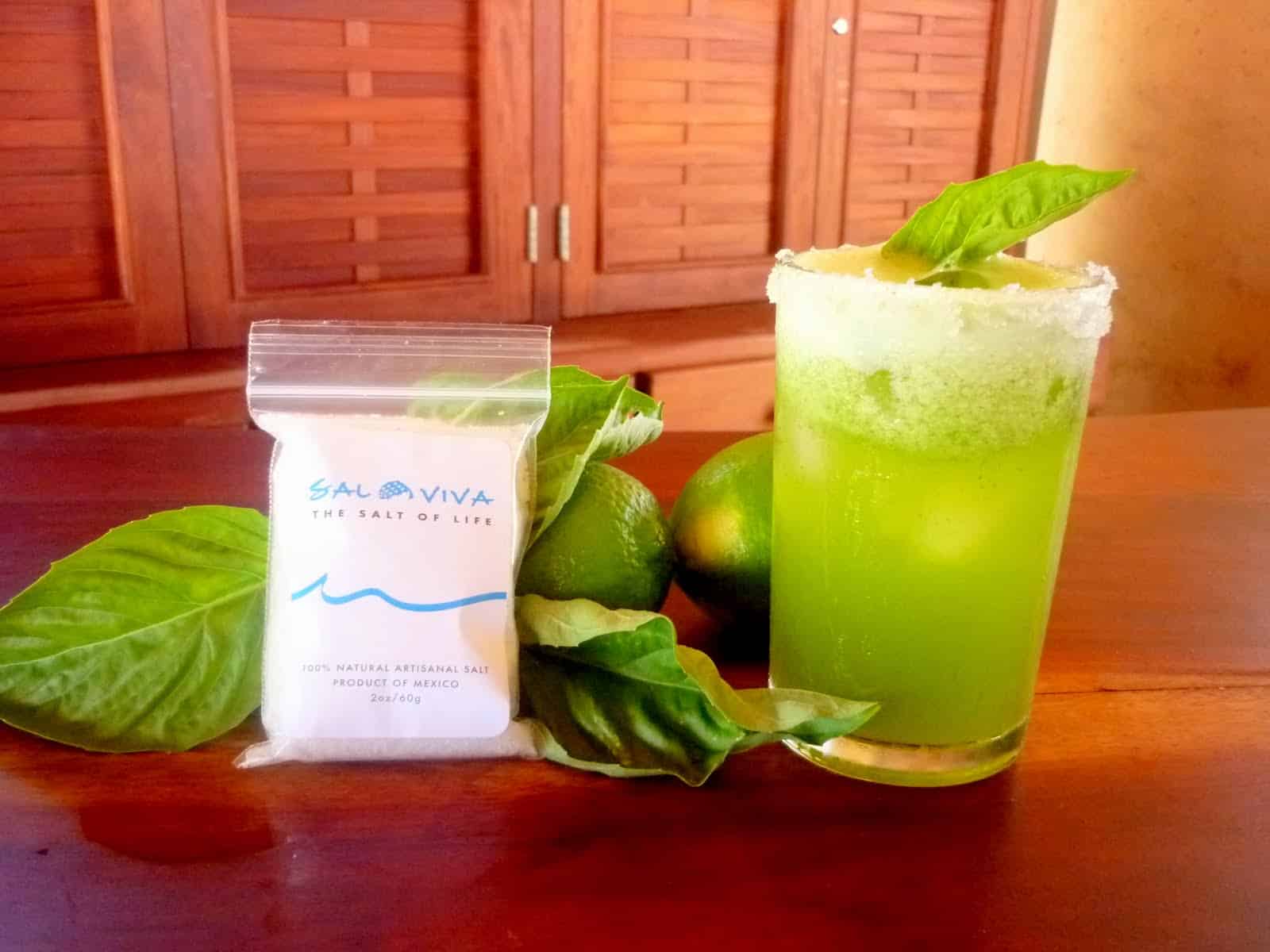 We recently challenged Johnny, who plays many roles at Playa Viva including bartender, to come up with the perfect signature margarita for Playa Viva.  The result was better than I could have possibly imagined.  The Organic Basil Margarita is, in one word, "perfect".  I am not a huge margarita fan, often finding them either too tart or too sweet, but this margarita is just right.  It's so just right, that it's too good, if that's possible, which makes it almost dangerous in how fast they go down.
If you are interested in recreating this concoction at home (or in your local bar), we are sharing this recipe with you. The key is not only "the mix" but, in this case, "the ingredients"; and that's why coming to Playa Viva to order one is extra special. With local organic basil farm just down the road, you can't find any fresher basil than what Paco at La Costa Organic Farms delivers. Then you need Sal Viva which is harvest down the road in the salt flats.  Last but not least, you need 4 Copas Organic Tequila, now that you can probably find in your finest local liquor outlet.  The rest is up to your ability to meet Johnny's original challenge, mix up the perfect margarita.
Happy mixing, sweet drinking and make sure to do it all responsibly!
Recipe originally published in HotelChatter.com for Cinco de Mayo, 2010.
Playa Viva's Organic Basil Margarita
Ingredients:
· 4 leaves of organic basil
· 1 lime
· 1 ½ oz of 4 Copas organic tequila (or other organic tequila)
· 1 teaspoon of agave nectar (agave honey – "Miel de Agave")
· 5 large cubes of ice
· Thin layer of Sal Viva in a dish (for rimming glass)
ToolsTools of the trade:
· Blender
· Shaker Glass
· Plate for salt to rim glass
· Glass
Blending the drink:
· Start with the four leaves of organic basil. Place them in a blender, then squeeze in juice from lime, add the tequila and blend (without ice)
· Once blended, pour the blended mix into a shaker glass with the ice and add the agave nectar
· Margarita should be shaken (not stirred)
· Take the remaining lime and rim the mouth of the glass to add moisture so when you dip the glass in a plate with Sal Viva, the salt sticks to the rim
· Pour in the shaken mix into a glass for the perfect Playa Viva Organic Basil Margarita.