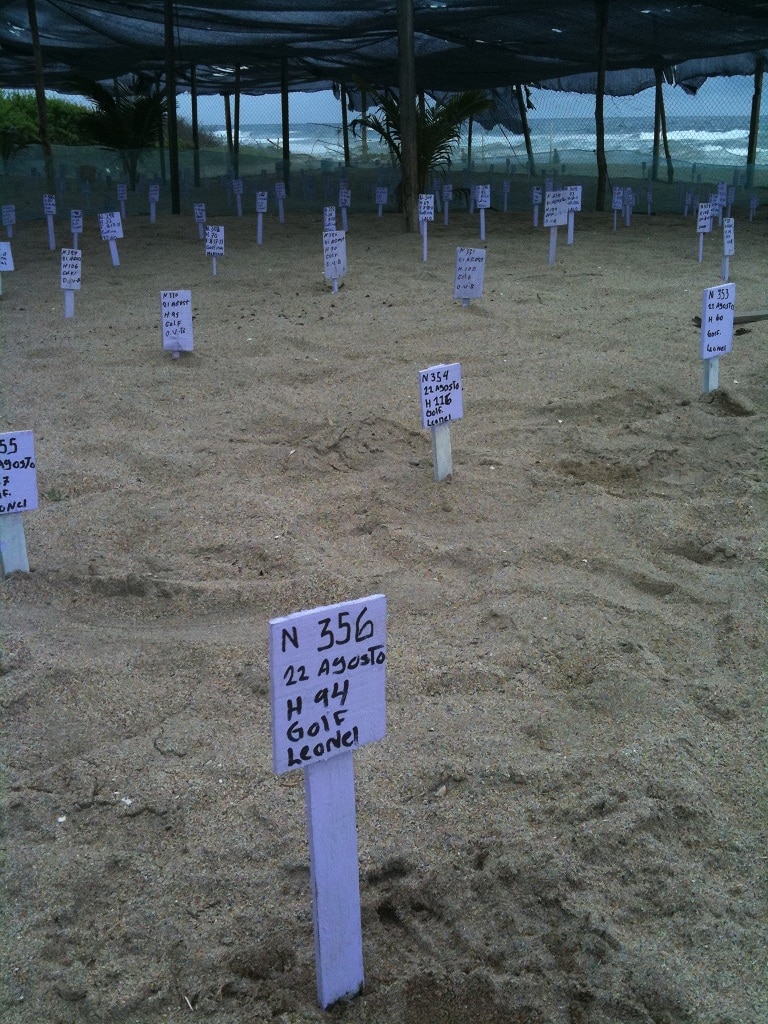 The day after I arrived at Playa Viva I hopped on a 4-wheeler and rode a few minutes over to the Tortuga Viva turtle sanctuary. The rows and rows of markers looked a little like miniature headstones, but instead they served the opposite purpose. As the mother turtles had come onshore the night before to deposit their eggs, local volunteers were there to gather them and transfer each batch to the safety of the sanctuary. Now, they were marking last night's finds so they'd be ready when in two months' time these eggs hatched into baby sea turtles.
¿Número?
174.
¿Fecha?
7 de agosto.
¿Huevos?
63.
¿Tipo?
Golfina.
As I watched, the volunteers marked each of the previous night's finds—recording the nest number, the number of eggs, the type of turtle, and the date.
—
Fast forward one week and I'm back at Playa Viva, relaxing before the start of a new week, when I hear the 4-wheeler headed down the beach from the turtle sanctuary. The volunteers arrive carrying a bucket, and when I peer inside I see tens of scrambling baby sea turtles – the first hatchlings of the year!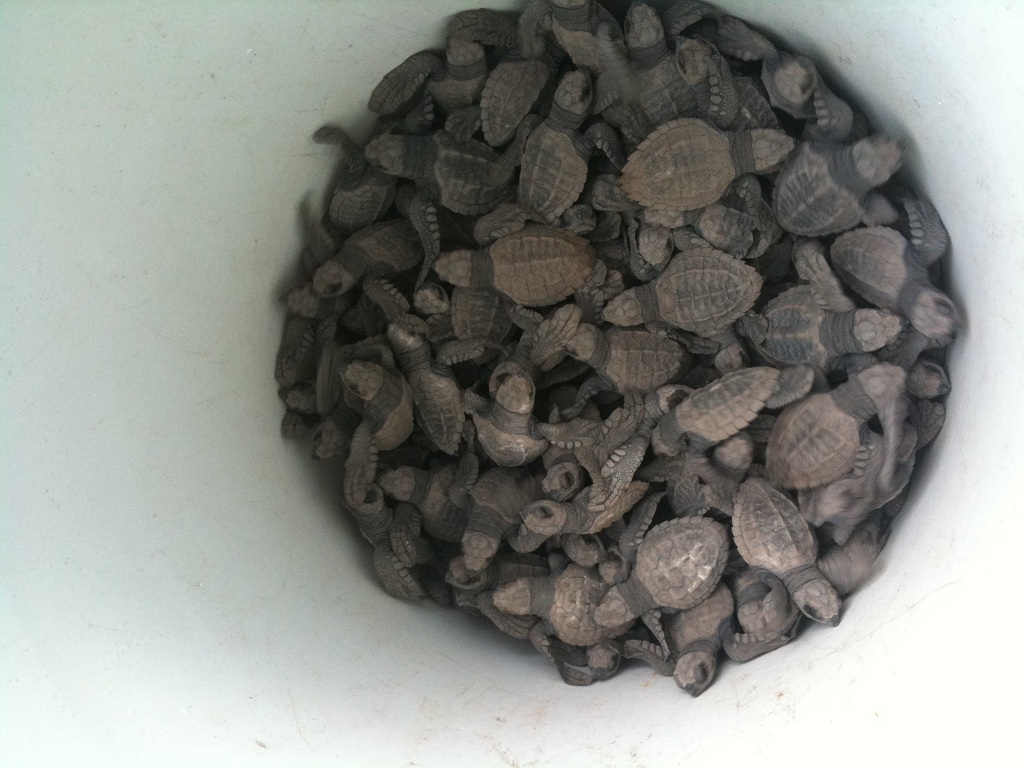 My timing couldn't have been better: one week earlier I was watching eggs go into the ground for their two month incubation period, and now here I was looking at the season's first set of turtles ready to be released into the ocean. Julia (Playa Viva's manager), the two volunteers, and I made our way down to the waves where they poured the turtles onto the sand and we all watched as they scrambled toward the ocean.
Tortuga Viva's volunteers told me that last year they released more than 100,000 baby sea turtles into the ocean. My fortunate timing—seeing eggs buried one week and baby turtles entering the ocean the next—is the result of the time and dedication these volunteers devote to gathering and caring for the eggs that mother turtles leave on Juluchuca's shoreline. They protect the eggs from predators and poachers and shepherd the baby turtles back to the ocean when they hatch. Playa Viva supports and partners with local volunteers to support these conservation efforts.
Check out the video below to see this year's first release, or, better yet, come down to Playa Viva to see it for yourself!
[vimeo 28335602 w=400 h=300]
Nick's Turtle Video from Playa Viva on Vimeo.