This Thursday afternoon Playa Viva's long, bocote-wood dining table sat 20 plus community members who all enjoyed organic pesto pizza, refreshing lemon-basil water, fresh salads and engaged in a discussion about community supported agriculture.
In the past week, Playa Viva launched its new community supported agriculture (CSA) program, Canasta Viva, and we invited community members to join us for lunch, a tour of the local, certified organic farm and learn more about the CSA.
As part of Playa Viva's mission to support the local community, we've partnered with Francisco "Paco" Chavez, a local farmer, who for the past four years has been operating a certified organic basil farm in Julachuca.  Paco's farm is part of an organic coop, La Costa Organica, which exports a tremendous amount of organic basil to the US, but Paco and other local farmers have a dream of creating a local market for organics and reducing dependency on exportation.
Paco came to us with this dream and we told him about t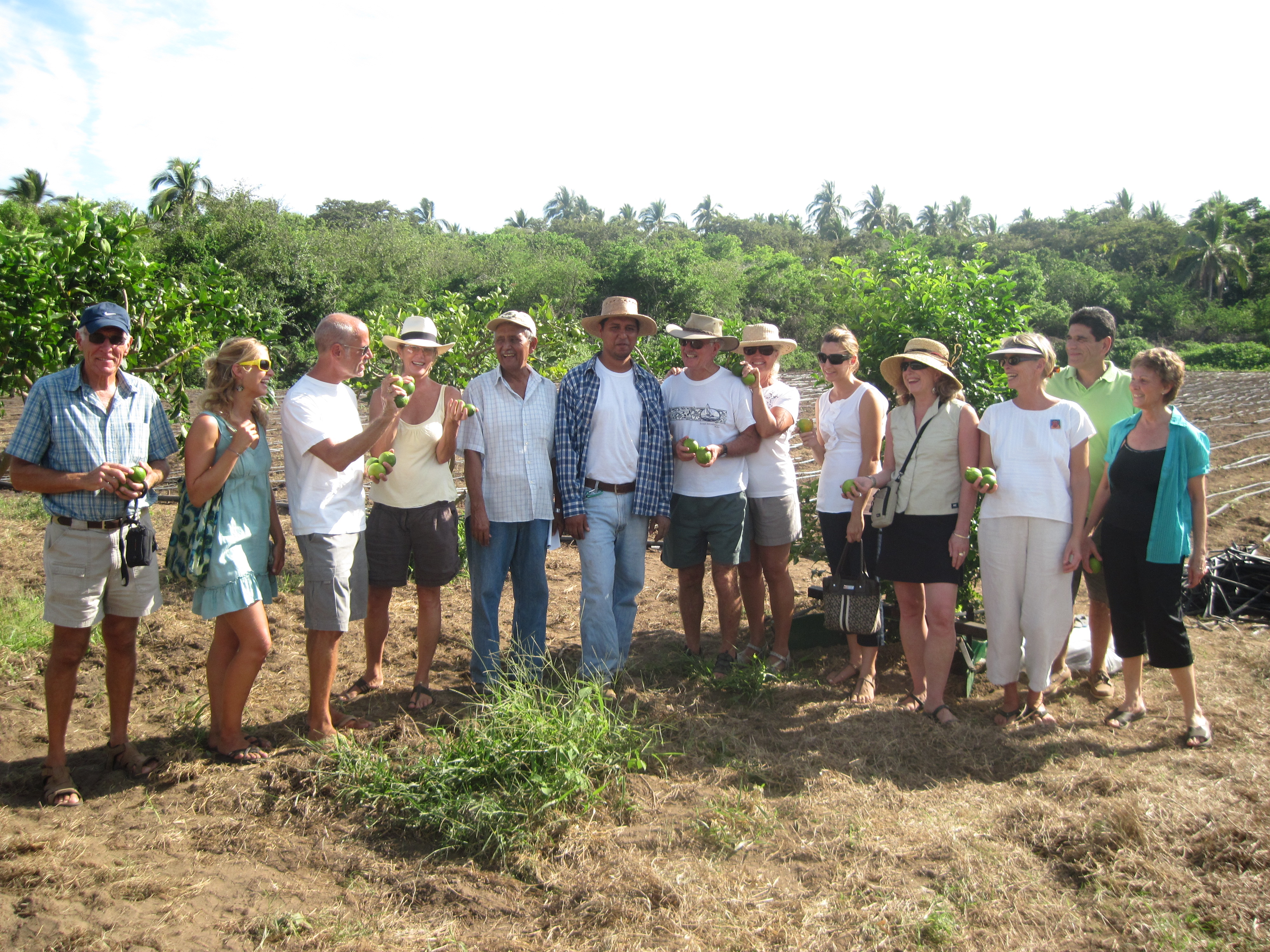 he CSA model, used successfully throughout the US, wherein community members pay farmers directly to receive weekly deliveries of their harvest.  Paco hit the ground running with this concept and immediately began diversifying his farm by clearing beds and planting seeds that will produce the first 50 "canastas", or baskets, of organic produce.
We in turn hit the ground running to inform the community, and in only one week the response has been wonderful.  After questions and suggestions regarding the CSA in our community, the majority of the table signed up for weekly canasta deliveries straight from Paco's farm.
But being part of a CSA and supporting organics means more than just signing up, it means really knowing where your food comes from.  So the whole group followed Paco down the road to his farm and learned about the legumes he plants to fix nitrogen in the soil, standards for picking and packing the basal, monthly water quality testing, the use of neem trees to keep insects away and making natural mineral fertilizers.
I stopped at one point to look closer at some beans planted next to the lemon trees and the group passed me.  When I looked up I saw Paco's father stooping to inspect the soil with a resident of nearby Bara de Potosi, Paco handing lemons to two smiling women in sun hats and David pointing out over the land to the group of people talking with him nodding and pointing too.  This, I thought, is truly a community experience.
If you're interested in learning more about the Canasat Viva program or would like to sign up to be part of it, email morgan at playaviva.com.