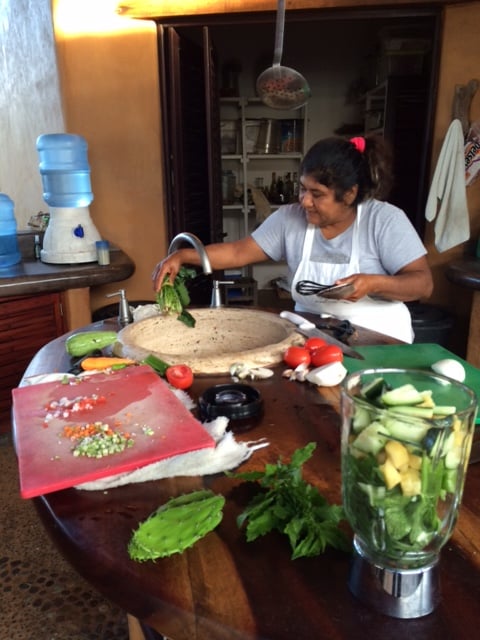 When I ask one of Playa Viva's cooks, Olga. for the recipe for the delicious green juice we're serving the guests at breakfast, she simply responds 'como tu quieres' (as you like it).
As my time here so far has proven, this phrase pretty much sums up the entire Playa Viva experience, in which each element is designed to fit snugly around your own particular set of conscious-living values.
From how you'd like your freshly-laid eggs in the morning, to daily activities (or daily inertia), how you interact with your surroundings at Playa Viva is dictated by you and you alone – a refreshing and relaxing change to a world in which we're constantly bombarded by external pressures and generic messaging.
Perhaps unsurprisingly then, my initial feeling is one of anxiety, when Olga asks me to prepare Green Juice the next morning, yet doesn't follow her request by handing me a detailed recipe with the precise quantities needed, and the exact order of steps to follow.
(It seems that I, like so many of us, are a little out of practice when it comes to relying on my 'inner guru.')
And so armed with nothing more than a list of ingredients,   an encouraging smile from Olga – and of course, my neglected instinct – I set about making my very own version of Green Juice, just 'as I like it.'
At first my mind gets in the way…self-doubt creeps in, I imagine a movie-worthy series of worst-possible-outcomes, …but then slowly – as the soothing rhythm of washing and chopping and blending takes over – I find myself lulled into a quiet sense of ease; my body intelligence seems to take the reins, and soon I'm throwing an extra stick of celery into the blender, and making confident declarations like 'that's enough lime' without a moment's hesitation.
In fact I didn't even ask for a second opinion before pouring it out for our eagerly-awaiting guests!
And the verdict? A unanimous 'Different but equally delicious' – perhaps the very lesson that Playa Viva intends to honour and remind us of…
Try our Mexican Green Detox Juice recipe yourself at home and see what delicious creations you come up with! All you need is a blender, a willingness to freestyle, and the following ingredients: Celery, Cucumber, Spinach, Lime (juice), Cactus, Pineapple.