Contributed by Nick Wolfe and Evan Silberstein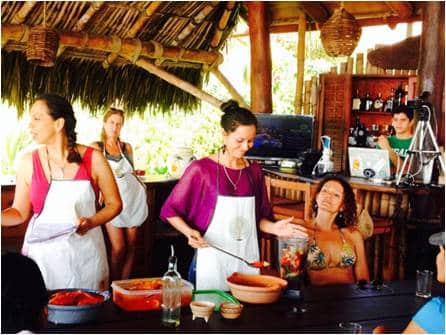 by Nick Wolfe – How does some eggplant cannelloni, cauliflower ceviche or jicama 'rice' sound? Good? If you'd been at Playa Viva last weekend you would have been able to try these delicious dishes and a few more at a healthy cooking workshop taught by the Eco Vegan Cooperative of Zihuatanejo.
More than 30 people arrived at Playa Viva last Sunday and began their day with a vegan breakfast straight from the Playa Viva kitchen. After breakfast, the guests toured the casitas, garden and turtle sanctuary, learning more about the solar energy, green construction and conservation programs that make Playa Viva sustainable.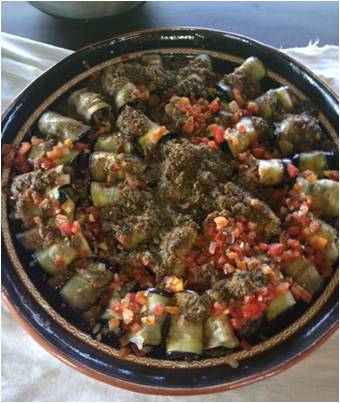 In the afternoon, participants sat down to learn new recipes that have a lighter impact on both their waistlines and the environment. From aguachile to vegetables a la talla, the Cooperative's expert instructors added a vegan twist to a number of typical Mexican dishes. Even Playa Viva's classic basil margarita got a makeover; trading out tequila for locally fermented kombucha that mixed perfectly with the light, sweet-sour taste of the signature cocktail. By the end of the day Johnny had added one more delicious drink to his repertoire. Chef Abraham and the rest of Playa Viva's kitchen staff complemented the dishes prepared during the workshop with more vegan recipes to round out a filling lunch to wind down the day.
A surprise second batch of baby turtles ready to be released wrapped up the day as the guests chatted about the recipes, sipped on their kombucha basil margaritas and lounged in sustainable eco-luxury. Evidenced by the meals and margaritas, the day was one of fusion: blending classic dishes with healthier and more sustainable recipes, while city slickers from Zihua escaped to an untouched beach paradise and got to know some of their neighbors just down the coast.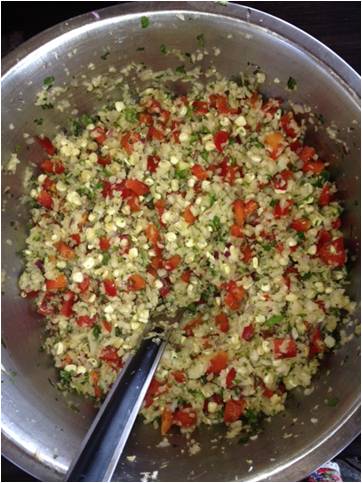 This wasn't the Cooperative's first vegan cooking workshop. In fact, the group hosts a monthly class in Zihuatanejo and participates in the Eco-Tianguis Sanka local farm and craft market every Saturday. But, it was the group's first visit to Playa Viva, a place participants said they felt like shared their values and helped them come in closer contact with nature while minimizing their environmental impact. That natural alignment between Playa Viva and the Eco Vegan Cooperative of Zihuatanejo means future workshops are a good bet. We hope you can join us for one over the coming months, but in the meantime be sure to visit the Cooperative's Facebook group. Or, if you're in the area, stop by and see both Playa Viva and the Cooperativa Eco Vegana at Eco-Tianguis Sanka in Zihuatanejo.
by Evan Silberstein – Playa Viva hosted the ecoVegana Cooperativa this past Sunday. A large group of over 30 participants visited Playa Viva for an all day event to learn about healthy eating and natural living. We were able to showcase many of the amazing things about Playa Viva. The guests enjoyed not 1 but 2 baby tortugita releases along with a very special tour of our property including trips to all the casitas, the delectable organic garden, our solar energy generating station and La Tortuga Viva – the turtle nesting and hatching sanctuary at the edge of our property.
The Cooperativa taught about healthy eating and shared lots of amazing tips and recipes to their students who came from all ages, genders and walks of life. Interactive discussions along with delicious food highlighted an exciting day of discovery and new insights for all involved. Rest assured, we learned a few twists ourselves – how does some coconut ceviche with a kombucha margarita sound to you?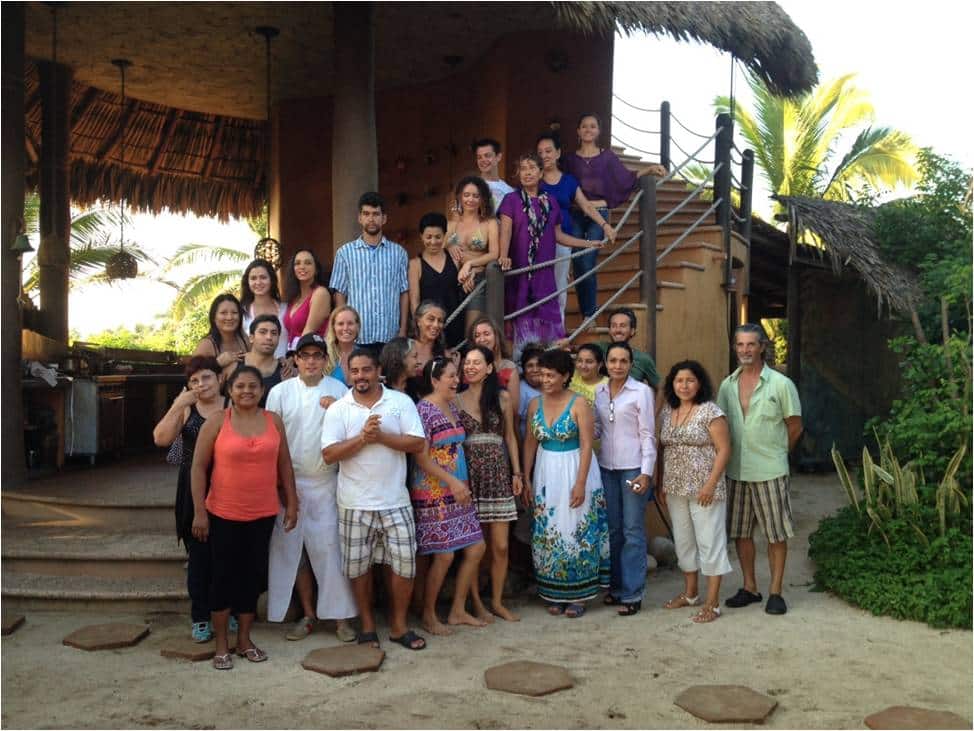 We look forward to more exciting community work from the Cooperativa in the future. Playa Viva is proud to support their efforts to raise local awareness about healthy eating and lifestyle choices.
You can look out for their tasty menu and find their smiling faces at the Eco Tienges – a new green market held every Saturday morning in Zihuatanejo. Playa Viva has a booth too; where we showcase greens from the garden, handmade soaps and local salts from Julichuca. Be sure to check it out on your next visit, it's worth the trip!
Check out the Cooperativas Eco Vegana on the internet to find out more, ask questions or see some exciting video footage from this very special event.