The land that makes up and surrounds Playa Viva includes 80 hectares of fields, farms, and huertos (orchards), where previous generations, and even civilizations, cultivated and harvested centuries' worth of coastal products. We inherited three such huertos, including 10 hectares of various mango varieties, 5 hectares of coconut trees, and 2 hectares of 80+ year old tamarind trees; all of which, when managed using agroecology methods, are capable of producing an abundance of fruit in each of their annual harvests.
There are few people on our team who are trained or equipped with the skill and patience required to manage a productive coconut plantation, and the young man who does, Daniel, does it with such grace and generosity. Daniel harvests around 2,500 fresh coconuts per season using two or sometimes three bamboo bars lassoed together to bring the fruits down to the ground.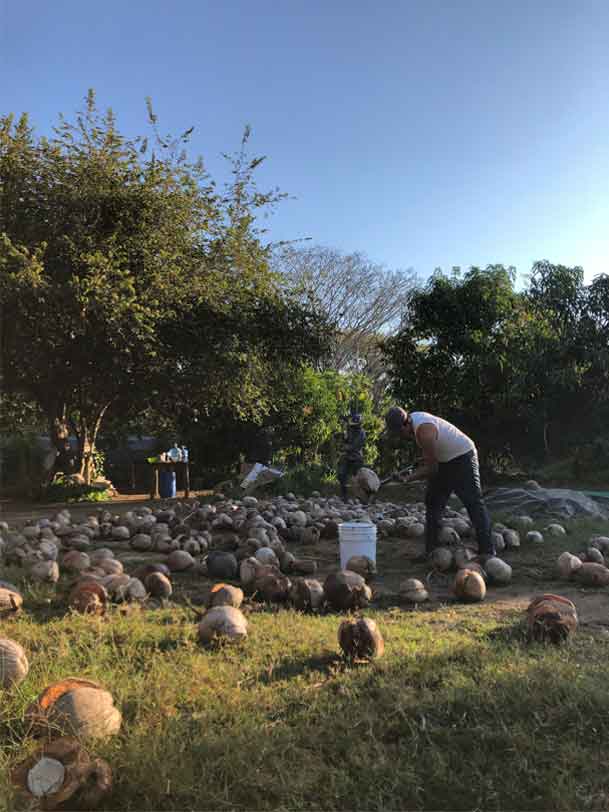 Our team collects another 2,500 cocos secos (dry/aged coconuts) from the orchard floor, and from in between the high marsh grasses, to be turned into one of our favorite farm products — Playa Viva's hand and community-made coconut oil.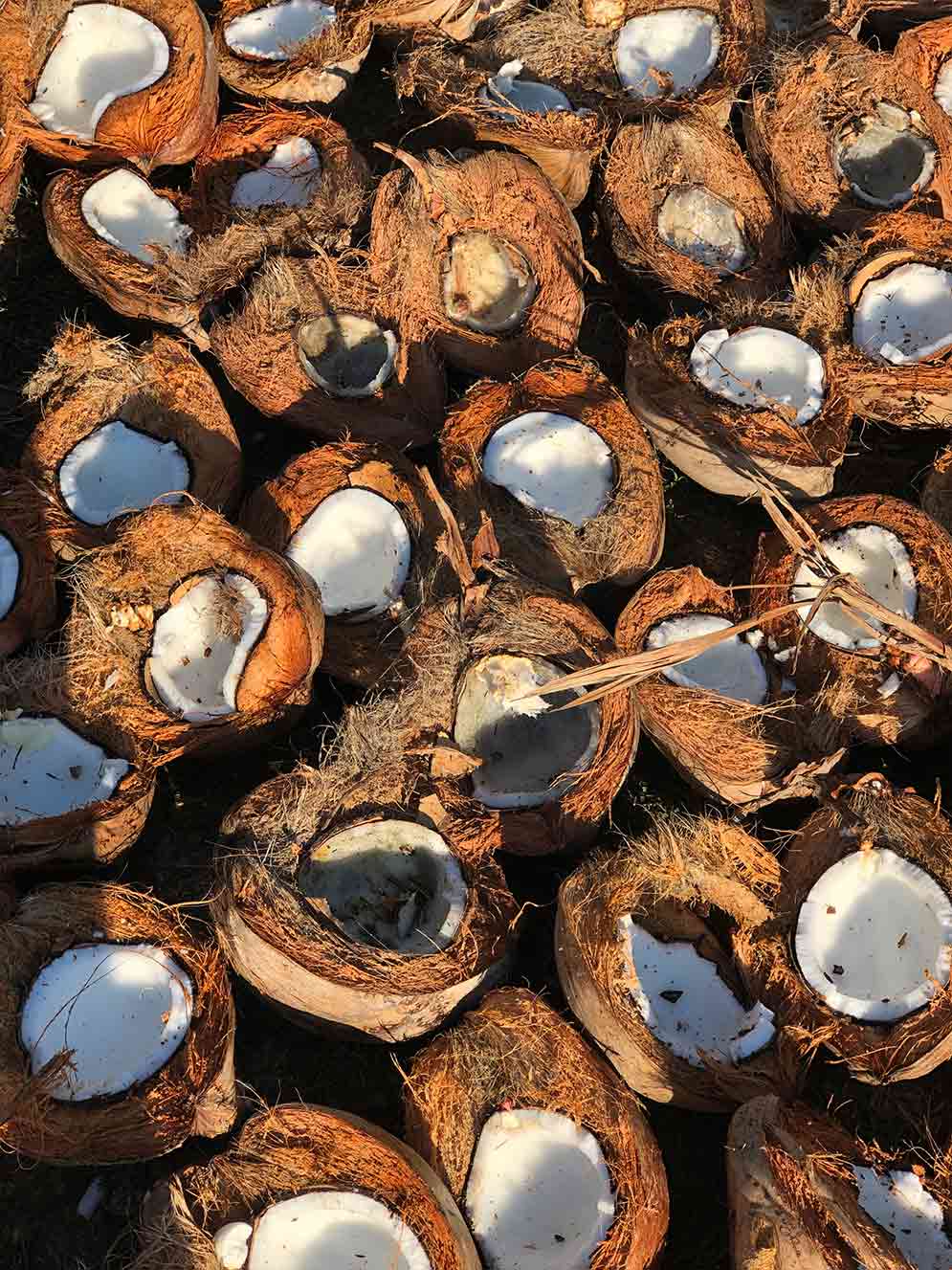 The Story of Playa Viva's Cold-Pressed Coconut Oil
It takes exactly two days, 250 coconuts, a few 5 a.m. favors from the local coconut candy "factories," and a whole lot of coordination for a team of three women to make fifteen liters of cold- and hand-pressed coconut oil. It is some of the cleanest oil you will find, and its delectable smell almost guarantees that you'll use it up quickly.
Our coconut oil is never heated; therefore, the protein molecules are never denatured. This makes the final product good for everything from skin and hair care to bulletproof coffee and any type of baking.
Detailed Steps of Making Coconut Oil
Step 1: Break up the normal farm routine. One morning a month our permaculture team meanders the five hectare coconut orchard collecting the aged coconuts used to make our coconut oil. The coconut fields sit just behind the sand dunes, weaved between estuary and lagoon, and make for a beautiful couple of hours in a different ecosystem.
Step 2: Later in the same day, one of the farm guys gimar los cocos (colloquially, peel the coconuts); he uses a vertically placed dull machete and a pulling action to separate the outer husk of the coconut from the inside seed.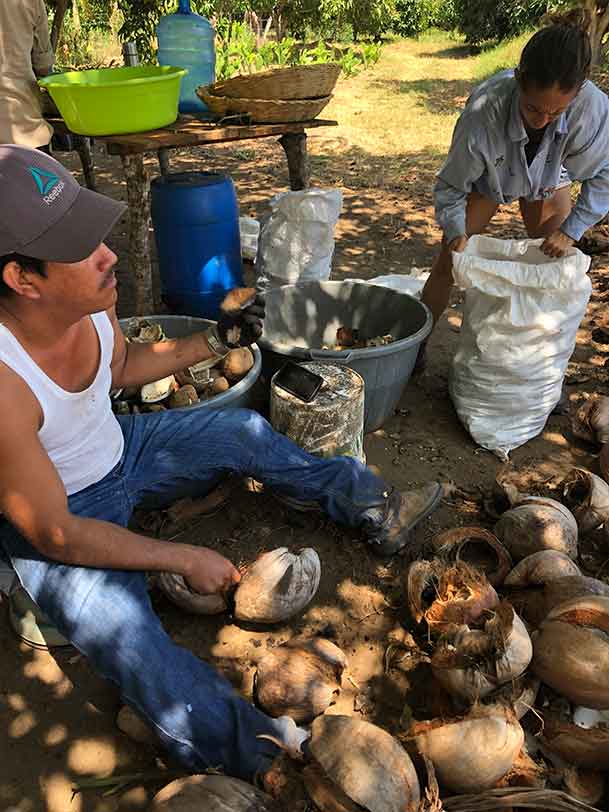 Steps 3 and 4: We live in a community where three coconut candy factories are the main source of income for most folks. These factories and their industrious workers produce and ship an astounding number of packaged little round shredded coconut and sugar mounds around the country. (Don't miss a chance to try them on your next visit!)
These neighbors help us out a ton to deshuesar (de-bone) and shred the nut into fresh coconut meat. There are two byproducts of this part of the process too, which we incorporate back into our permaculture systems on the farm:
A tough outer shell of the coconut is removed by hand with a machete and serves as great mulch or biochar in our plant systems.
The water and what's called a manzana (apple) inside each coconut is also returned to the farm and served to our pigs as part of their feed schedule.
Step 5: The fresh coconut pulp finally makes it to Gaby, Lupe and Yadi — the mom-and-daughters team of locally trained women who produce our coconut oil . They cover the coconut pulp in a perfectly calculated quantity and temperate water, leave it to soak for a certain amount of time, and then begin pressing the shredded pulp liter by liter in a small hand-crank-powered fruit press to extract a rich, creamy coconut milk that begs you to drink it. We then leave the milk to ferment overnight.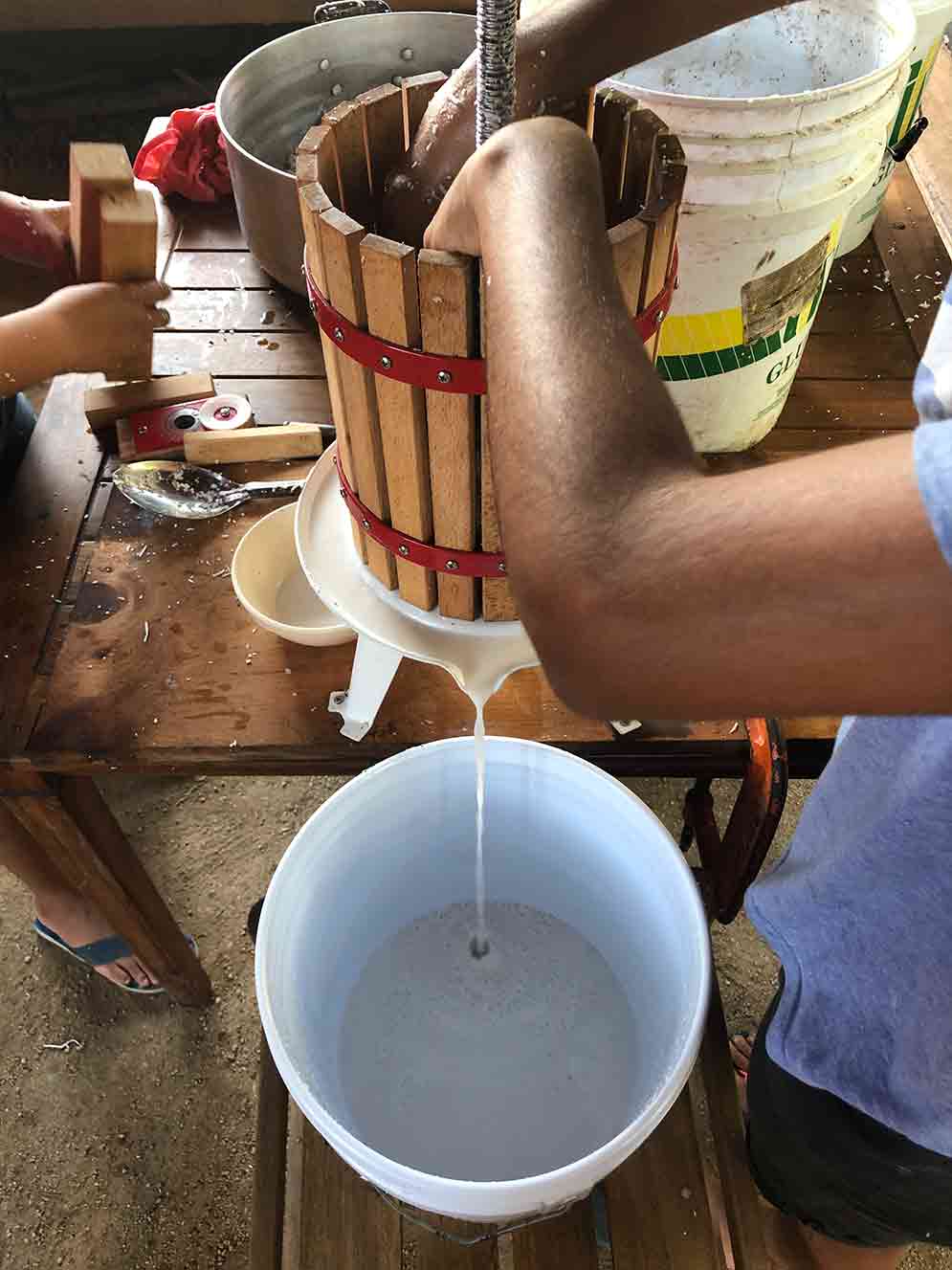 Step 6: A day later, Gaby and her daughters scoop spoonful by spoonful of oil from the layers of liquids that have formed in each container. We've become really good at this process. We can accurately project our harvest numbers at 15+ liters of coconut oil with each production cycle.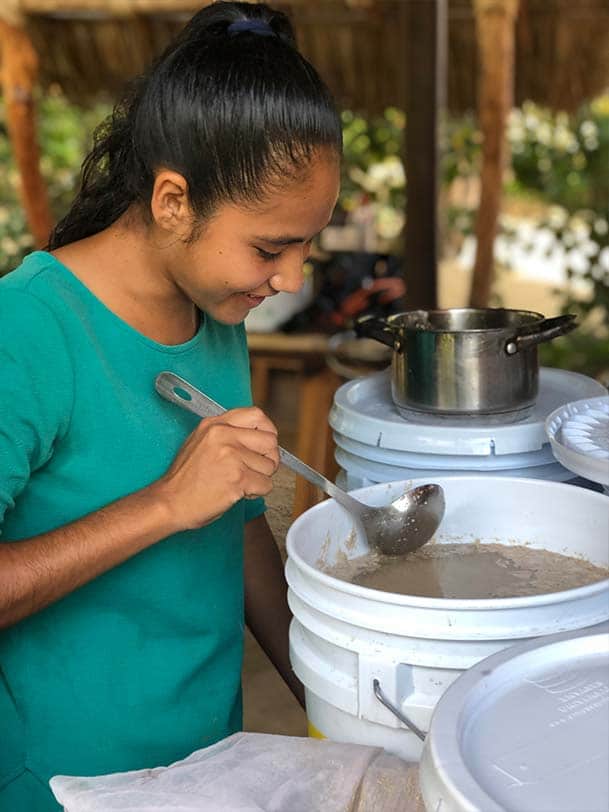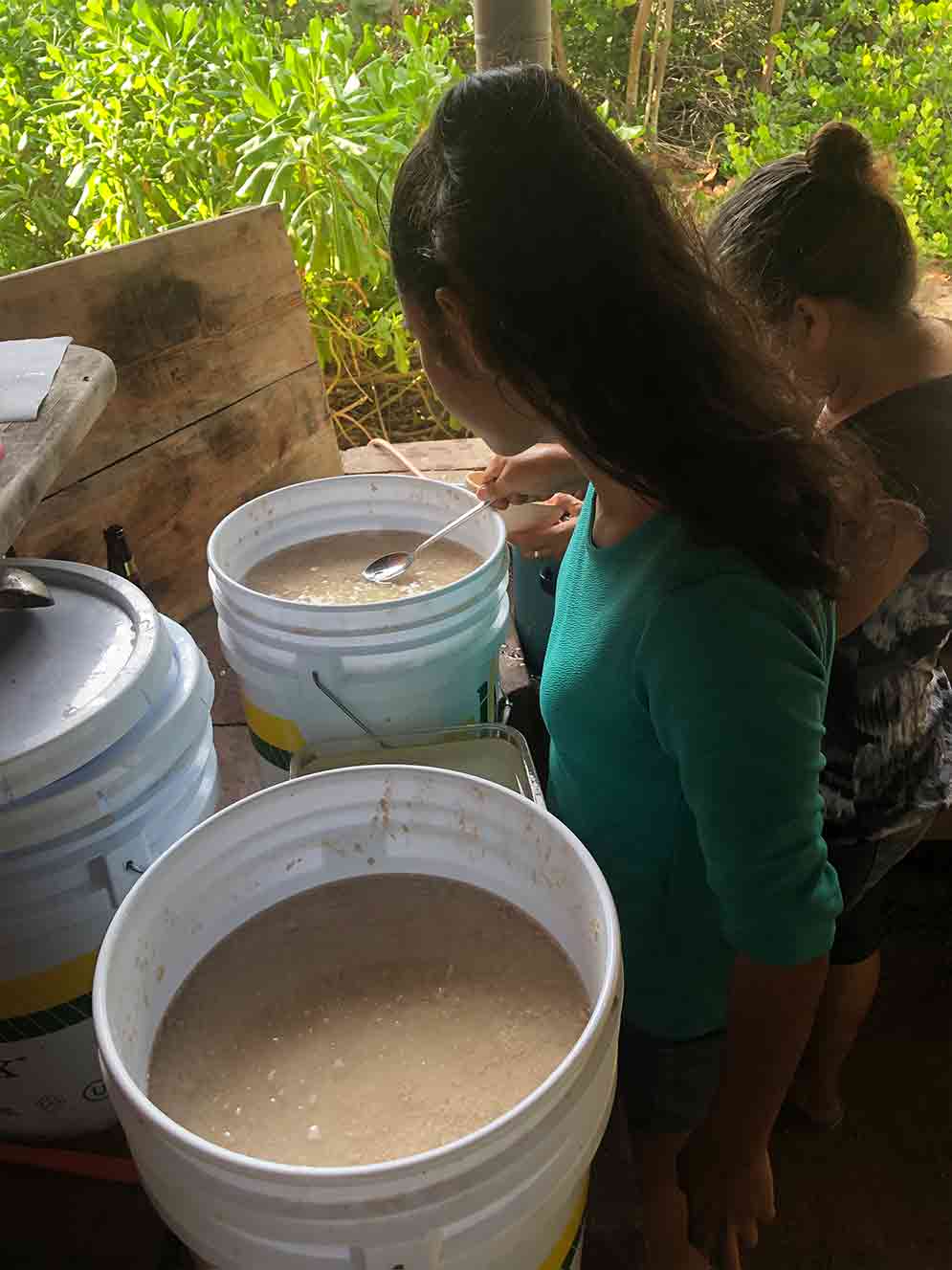 We continue to learn something new each time, even while recently finding our rhythm and streamlining our systems. It is so much fun to debrief with Gaby, Lupe and Yadi after each production. They are proud of their work and outspoken young ladies about where we can improve our processes to be more efficient with our time and movements.
Step 7: Bottle the coconut oil goodness! We use recycled glass bottles from a popular brand of carbonated water consumed in hotels in Zihuatanejo, and we print our hand-drawn labels by Mexican artist Rodolfo Baquier in a local papelaria (print shop / paper store). 

An Ever-Evolving, Hyperlocal Production Process
Three years ago, our coconut oil was pressed and consumed in house, or in this case, in our resort, and fitting the production into a busy hotel and tourism schedule was challenging. Today, three women manage the production and earn more than their male counterparts for the day's labor. Plus, they are financially contributing to another industry in our community. We estimate that 90% of the money earned by these women stays inside our local economy.
Thanks to Gaby, Lupe and Yadi's interest and commitment to engaging in the first batch of value-added products leaving our permaculture farm, our coconut oil now has five equally important markets:
A big batch goes directly to the Playa Viva kitchen. You'll taste it in dishes created by Chef Daniel and his team, including breakfast granolas and different breads, cakes and pies.
We infuse two or three liters with farm fresh herbs like lemongrass, rosemary and citrus leaves before handing it over to our Holistic Host for guest and staff massages.
Small bottles are available all season in the Playa Viva boutique so you don't forget us when you arrive back home.
We have two points of sale in Zihuatanejo. One is an organic farmers market where we participate each Saturday.
And the other is an artisan stand at a local restaurant.
Our goal this hotel season is to produce coconut oil year round. Last year, the coconut oil flew off the shelves in Playa Viva's boutique, and we want to make sure every guest has access to the locally made product before they check out. Many people make suggestions of other markets where we can see our products; and we're working on the same.
For our Permaculture Specialist Amanda Harris and her growing team of women working in value-added farm products, our focus for the next 12 months is refining our business model, collaborating in management and logistic strategies for building local small business, and conducting thorough regional market research to see where we go in phase two.
1 Element Inside a Dynamic System With Many Functions
Playa Viva exists in this beautiful middle space — a pillar in our local community as the resort employs almost 10% of the population in our watershed; a portal for our guests to get to know individuals, cultural practices and delicious Mexican dishes; and a unique blend of ecosystems and communities that lend themselves to transformational experiences and colorful cross-cultural learning opportunities.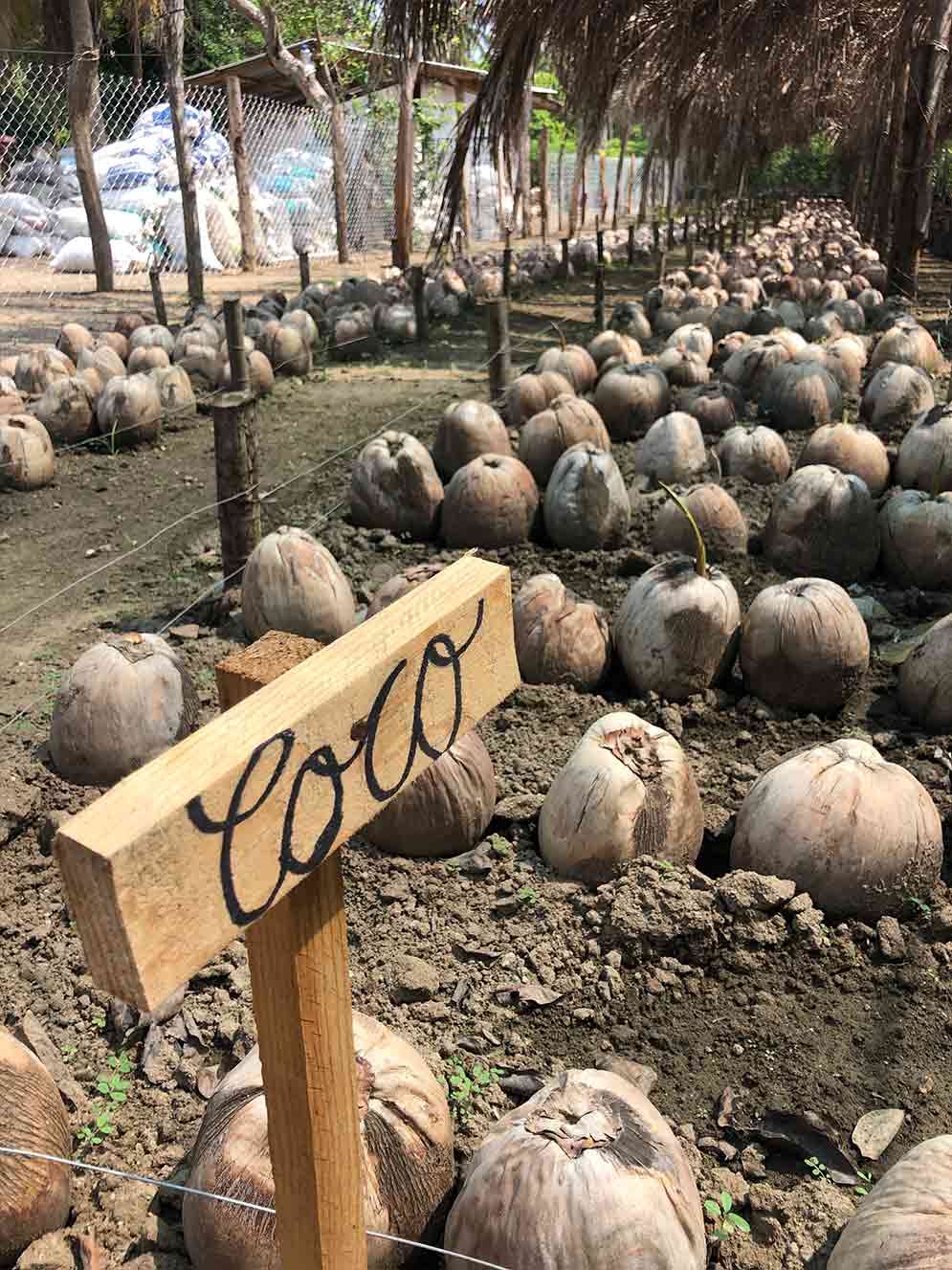 Coconut Palm Wood & Natural Building
Our local community first introduced us to the use of red and white coconut palm wood as a sustainable alternative to pine and rare hardwoods, whose harvests support an unfortunately drastic deforestation trend in our region. The coconut palm wood, cut, milled and treated on site, is used as ceiling beams in some of our guest rooms, the roof structure that supports our education efforts at the turtle camp and on the permaculture farm, as well as the artisan made sombrillas (beach umbrellas) that offer shade just in front of the ocean.
Our permaculture team works hard to move every sustainable practice one step further into a regenerative one. We record the number of coconut palms harvested from our site each year, and we plant two coconut trees for every one we harvest. One to replace the wood we removed from the ecosystem and a second to provide for future generations' needs.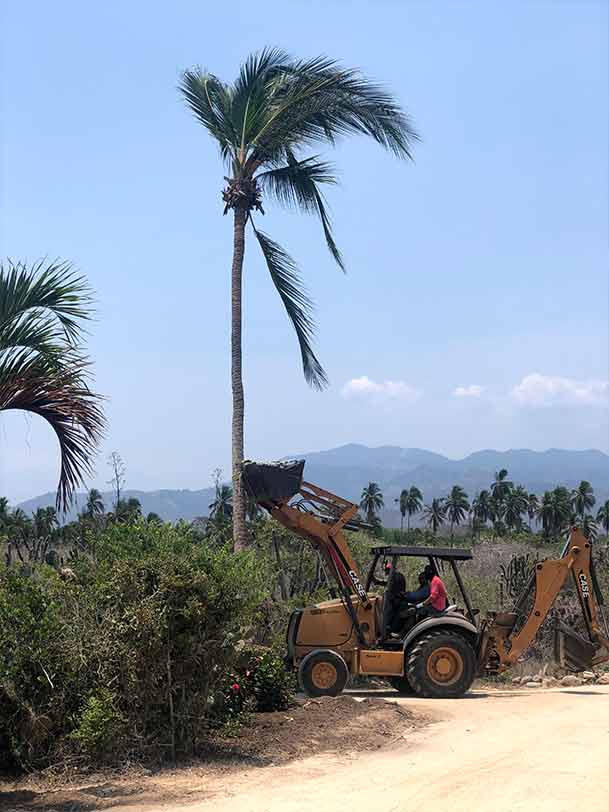 You'll find some of the new palms strategically planted inside the five hectare coconut grove and others growing in our female-run permaculture vivero (nursery) to support our agriculture consulting projects in the region. We also recently connected with Organia de Mexico, a local business who turns hundreds of metric tons of coconut husks into agricultural soil starters. The technology is simple, and the concept has the potential to change markets.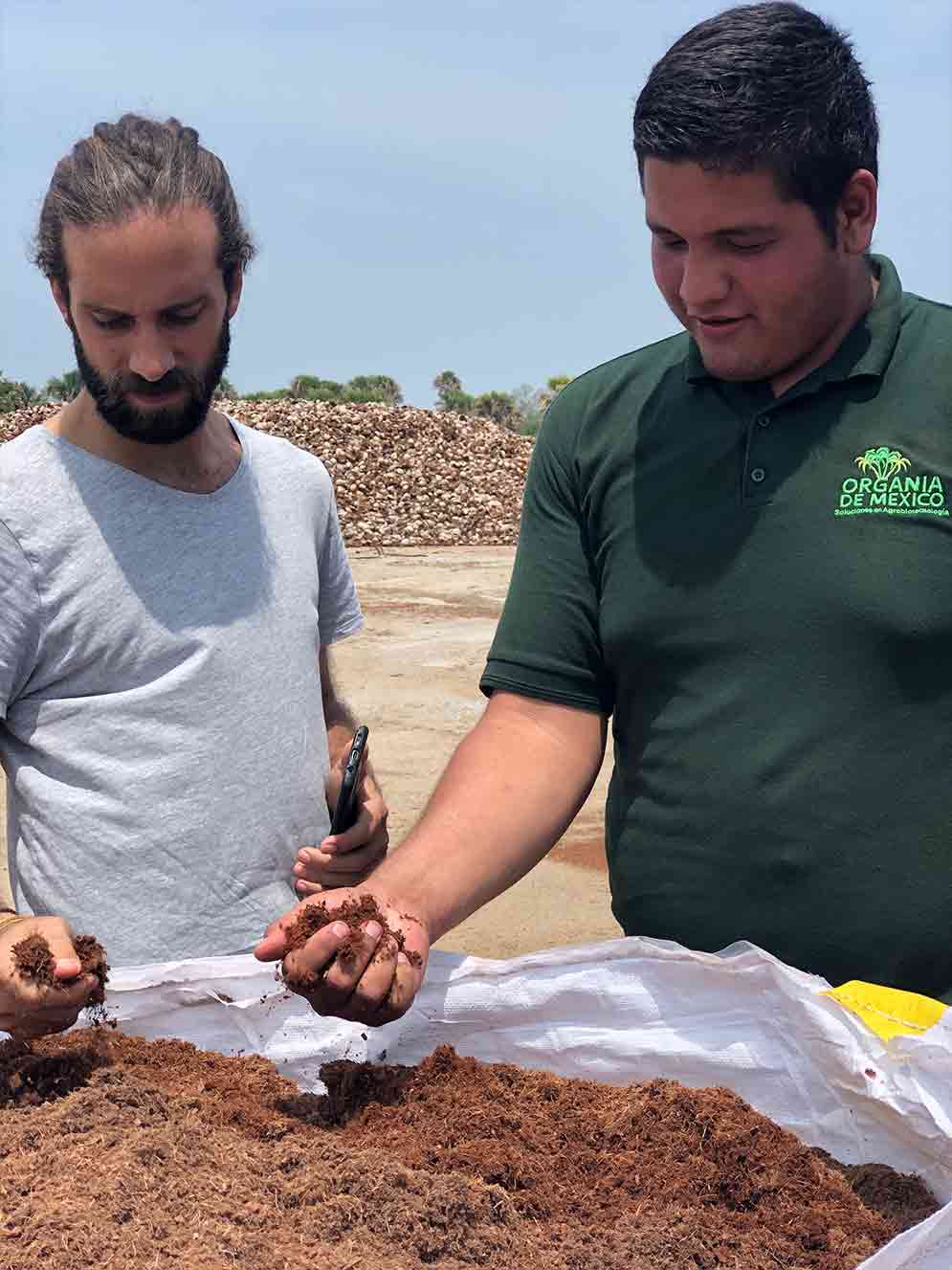 Coconut in the Kitchen
The Playa Viva kitchen has also developed several staple uses of coconut over the years. Coconut milk is a staple next to coffee each morning. And because we are always looking to use our resources to the fullest, we have recently been experimenting with turning leftover coconut pulp (from our oil production) into alternative flours for gluten-free desserts. And, if you are lucky enough to be at the resort when Doña Sandra visits, you have most likely tasted our fermented coconut water served as a digestif… and then asked for seconds.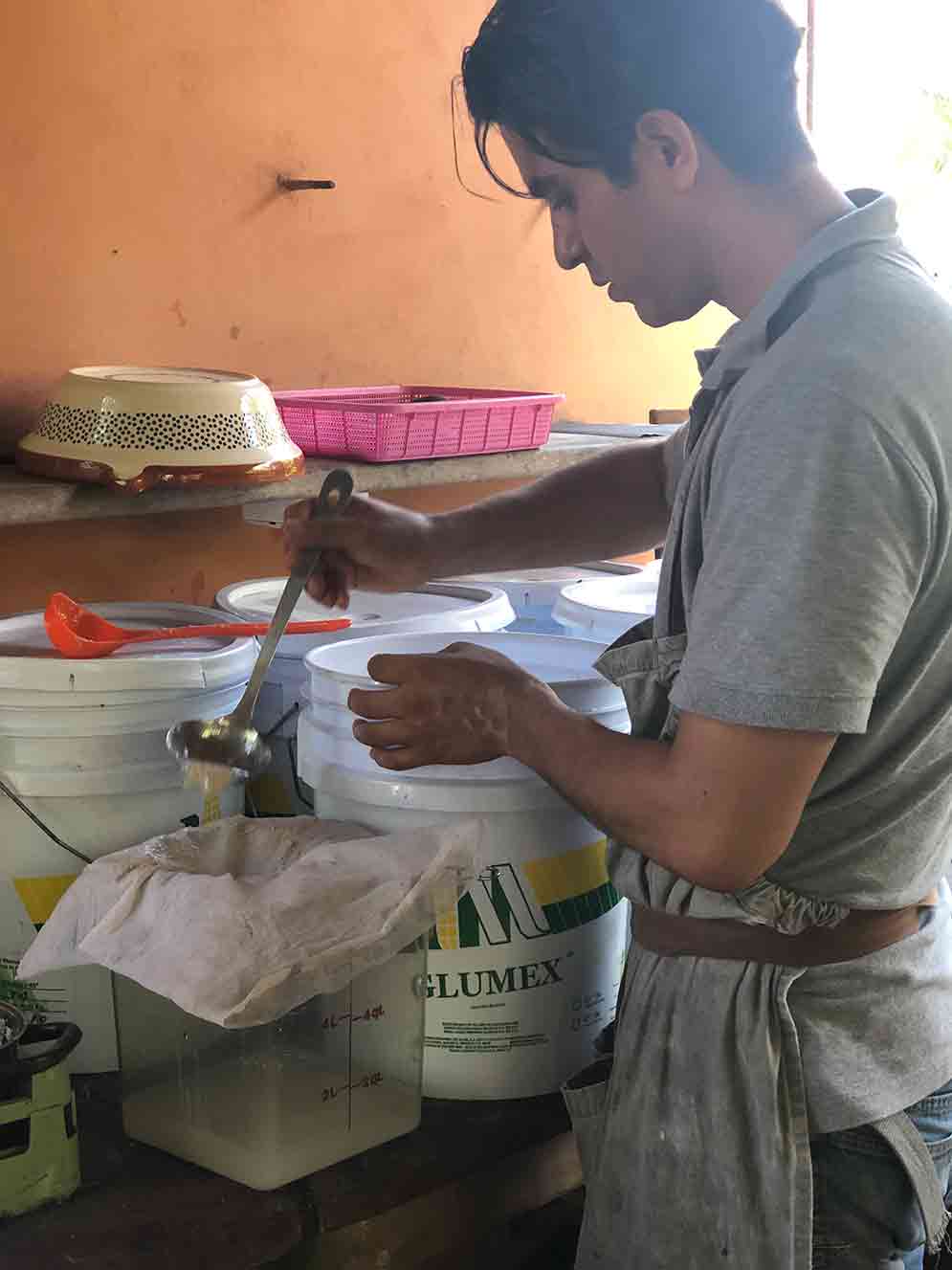 Play Your Part at Playa Viva
As a hotel and a farm, we apply basic permaculture principles to the use of all resources on our site. The coconut tree and her fruit are an example of how one element inside a dynamic system has many functions to play. Our staff and team members, our local and international volunteers, and our guests, also, all play a similar role during their time at Playa Viva. We ask you to touch as many corners of Playa Viva as does the coconut.
Get into the community with Colleen to meet Gaby and her daughters or to teach a class at the school, meander through the estuaries and coconut grove with Lorenzo on your way to the turtle camp, or tour the farm with Amanda to see many of our core values and permaculture principles at work.