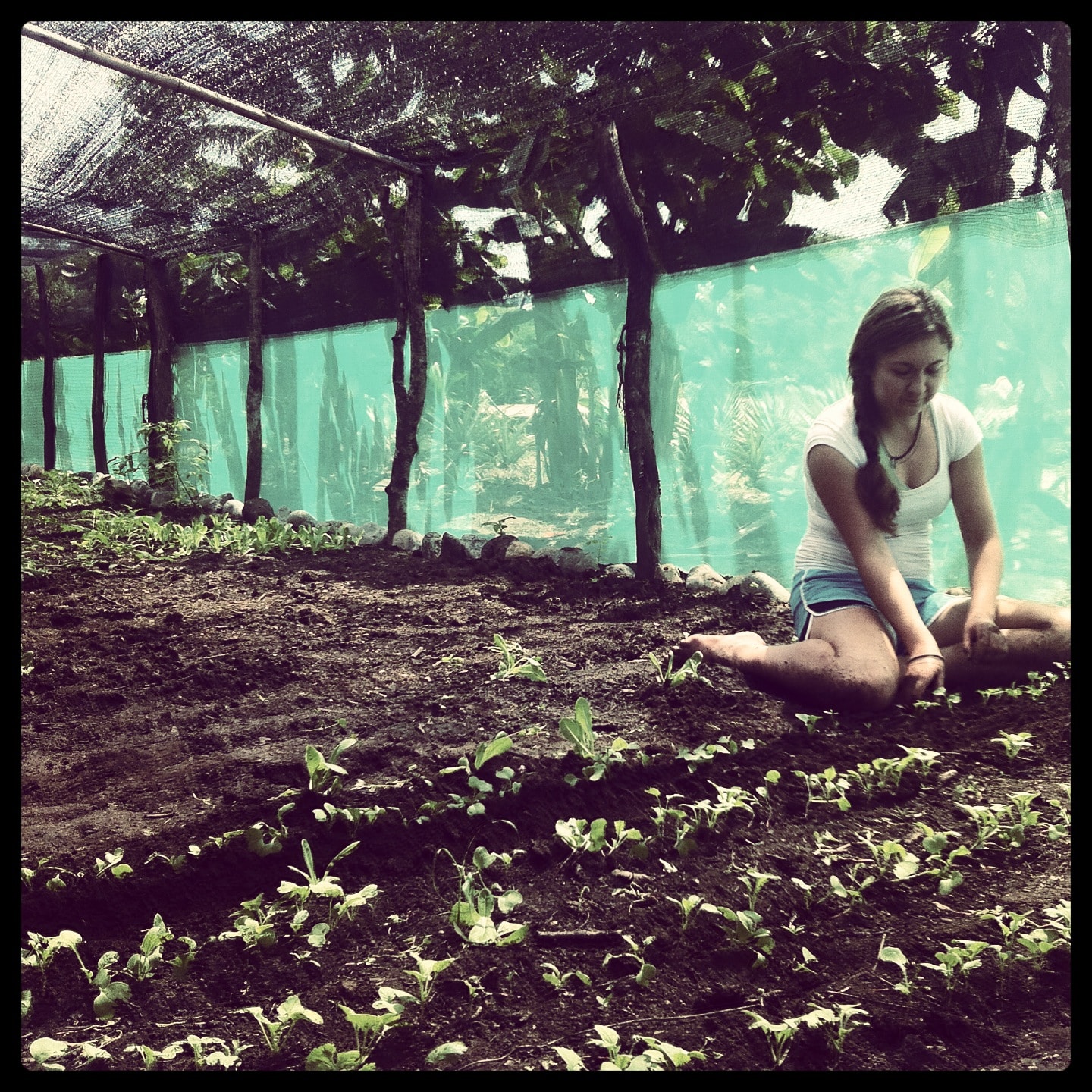 Contribution by Rose Winters, WWOOFer/Volunteer, Playa Viva Oct-Dec 2013.
Playa Viva really made me realize how fast two months could pass.  My sense of time which I was accustomed to most of my life was based on being in a classroom and not in in the setting of a place like Playa Viva.
Looking for a change of scenery and a different perspective than the town I'd lived in my whole life, I looked for a way to travel to Mexico in an affordable way. I discovered the organization called WWOOF (World Wide Organization of Organic Farms), which led me to the Playa Viva website, and after convincing the owner of Playa Viva that I was a viable WWOOFing candidate,  I was off to Playa Viva.
Upon arriving at Playa Viva I met, unknowingly at the time, people that I know I will stay in contact with for years to come, people that would become my best friends and nearly constant companions for the next two months. I spoke very little Spanish when I arrived. The songs about wolves and sheep that I had learned in my high school Spanish class did surprisingly little to help me through a conversation with anyone in Mexico. I found it frustrating in my first few weeks in Playa Viva; I wanted to talk with people, to laugh with them, but instead I found myself desperately trying to translate what was being said, while awkwardly staring into the distance.
Needless to say, many conversations were lost. And jokes, that were funny at the time they were told, had lost most of their humor after five minutes of explanation. Despite the minor challenges that I had learning Spanish, the notorious "language barrier" did little to affect the relationships that I grew to have with the Playa Viva staff. The patience of the people at Playa Viva with my repeated attempts to understand and speak their language, along with an abundance of jokes inspired by my mispronunciations and Spanish mishaps, led to a drastic improvement in my Spanish.
My time at Playa Viva has really proven to be life changing, not only because it was my first real time traveling away from home, let alone another country, but mostly because of the connections I have made, and the people that have helped me out and befriended me along the way. Whether it was being invited to go to soccer games in the nearby town of Petatlan, to go swimming in the mountains, to go to the few parties in the small towns of Juluchuca and Rancho Nuevo, to go to the church for December 12th where the young girls were fascinated by my long, curly, light colored hair, I felt accepted and welcomed by everyone I met.
I feel so lucky and grateful to have made this "second family" of mine that is mostly made up by the staff at Playa Viva. Instead of leaving with a bag of souveniers that I have bought from Mexico, I have a notebook filled with names, email addressees, personal notes, and phone numbers. Leaving the place and people of Playa Viva was sad; my time at Playa Viva was very temporary, but the memories and experience I have from this place will stay with me my whole life.