Who wants to stay in a treehouse with an oceanside view, suspended in the air by palm trees and surrounded by luxury, nature and the sound of crashing waves?
Everyone! This became immediately apparent after launching our first treehouse in 2016. This award winning design, known as a Jet treehouse based on its conical shape, was an immediate hit worldwide. While all of Playa Viva's accommodations are unique in their own way (and similar in that each feels like you're on vacation at your own private beach home), our first treehouse is just plain special.
With that in mind, our Phase IV expansion for Season 13 takes regenerative travel to the next level with 6 luxe, new treehouses, with a new design, inspired by a drone video taken by Steven Shea.
A Mobula Ray Migration Into the Palms
The new treehouses, which will open on November 2, 2021, were designed based on drone footage of a Mobula ray migration filmed directly in front of the resort.
Designed by Nomadic Resorts, these soon-to-be-iconic treehouses are being built in the oceanfront palm trees between the Common Area and the Yoga Shala right next to our original treehouse. Three types of treehouses form our new treehouse village: Manta Ray treehouses, a Wing treehouse, and an updated Jet treehouse.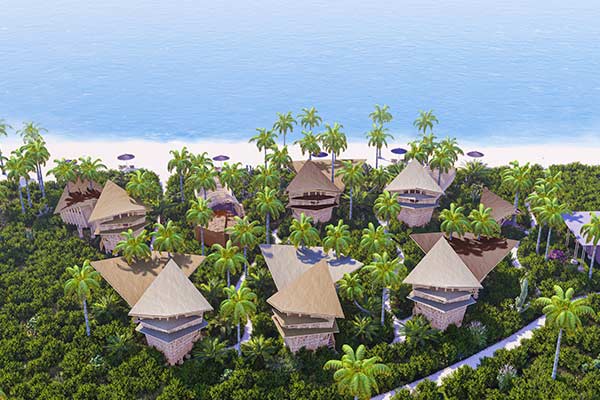 Manta Ray treehouses are suspended in mid-air by palm trees and designed to echo the manta rays you can see flying out of the ocean in front of Playa Viva. Each treehouse is made up of two buildings. The "perch" in front is outfitted with a King bed as well as a net hammock suspended out front. The back house has a private bathroom downstairs and a lounge upstairs. This upstairs portion of the treehouse is outfitted with two daybeds and a desk with an unreal view.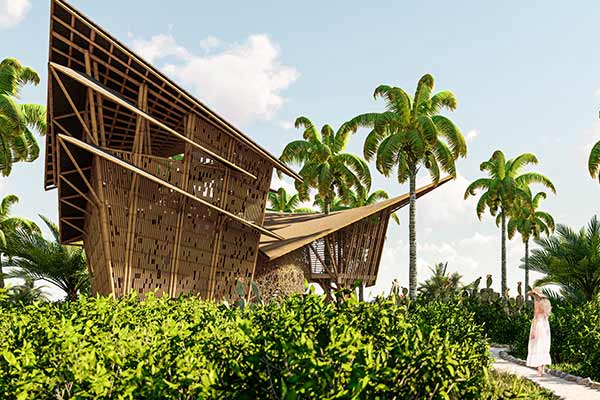 The Wing treehouse is a unique design; it's one of a kind among the new treehouses. The perch is inspired by a wing of the Manta Ray. It has a King bed and a net hammock extending out over the front with a perfect oceanfront view. The bathhouse is the same as other treehouses with a guest room upstairs with two single beds and a desk.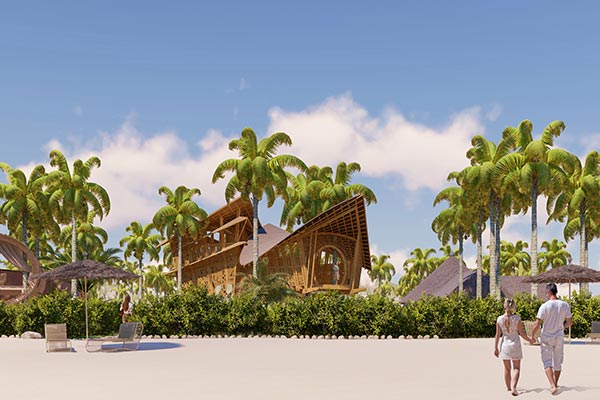 Inspired by the original treehouse at Playa Viva, our new Jet treehouse has been updated with additional touches. The same conical shape is preserved as the perch with a King bed, but an updated back house has a private bathroom downstairs and a lounge upstairs. This second house is outfitted with two daybeds and a desk with the same unbeatable view. The new Jet has a hammock extending over the front of the room as opposed to within the room, but otherwise it retains much of the same style of the beloved classic.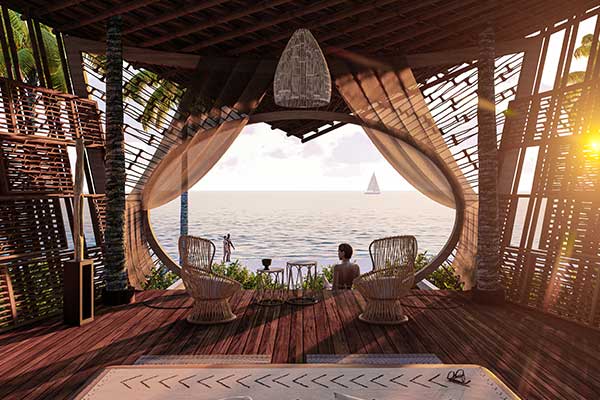 Playa Viva Leads with Local — for Building & Connection
Bamboo construction specialist Jorg Stamm is leading the new treehouses' building process. Stamm is responsible for world-class projects from Colombia to Bali, including the renowned Green School — a school without walls we know you would appreciate (its design and its foundational philosophies). He is truly a bamboo master.
Building materials for the new treehouses have come from our property's own harvest of bamboo plus palm fronds for the palapa roofs. All of the landscaping and vegetation is also grown on site in a nursery run by local women entrepreneurs supported by Playa Viva. 
In the words of our owner David Leventhal, "A stay at Playa Viva is a true return to paradise — you are immersed in nature and have the opportunity to connect to place in a way that transforms you and the local ecosystem." From inspiration and design to construction and completion, these Treehouses are a great compliment to the luxurious immersion in nature guests enjoy every day while at Playa Viva