Why has it been so long since our last blog post? Simple, we revamped the website about a year ago and the blog was not part of the new site. But many of you were still searching, finding and commenting on content on our blog; so we decided to bring it back and incorporate it into the new website. While much of our content updates have been visual, posting photos on our Instagram page with links back to our Facebook page, we still have a need for words, for WordPress and for non-visual content that provides a narrative update for what we have been up to at Playa Viva.
So what have we been up to since the last post? Stay tuned as we provide updates on the same topics we have covered before: Green, Sustainable and Regenerative Travel, Architecture, Building, Community Development, Volunteering, Local and Organic Agriculture, etc.
One notable item is the new Treehouse at Playa Viva. It was designed by Kimshasa Baldwin at Deture Culsign and the construction was completed by Will Beilharz and his firm ArtisTree.  The end result is stunning and has become an iconic image for Playa Viva.
Most recently, the treehouse can now be called "award winning." NEWSFLASH: the "Treehouse Suite at Playa Viva has been selected as one of the finalists in the Lifestyle Guestrooms category…,and all winners and finalists will be featured in the June issue of Hospitality Design magazine."
Also, Kimshasa and Will along with David Leventhal of Playa Viva also presented at the Boutique Design Magazine's BDWest conference. The session was entitled: "EARTH STAYS: MAKING SUSTAINABLE DESIGN HAPPEN IN A NANOSECOND."  The focus was how an introduction by Mary Scoviak of Boutique Design in April of 2015 lead to the design and construction of the treehouse opening in October 2015 (a nanosecond in hotel design and building).
More about the design and building process in future posts. Please come experience the Treehouse for yourself.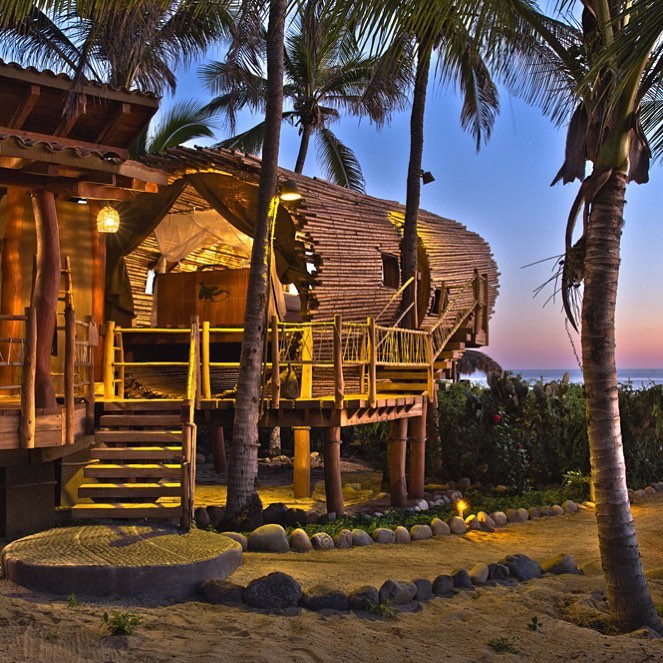 Photo by Leonardo Palafox