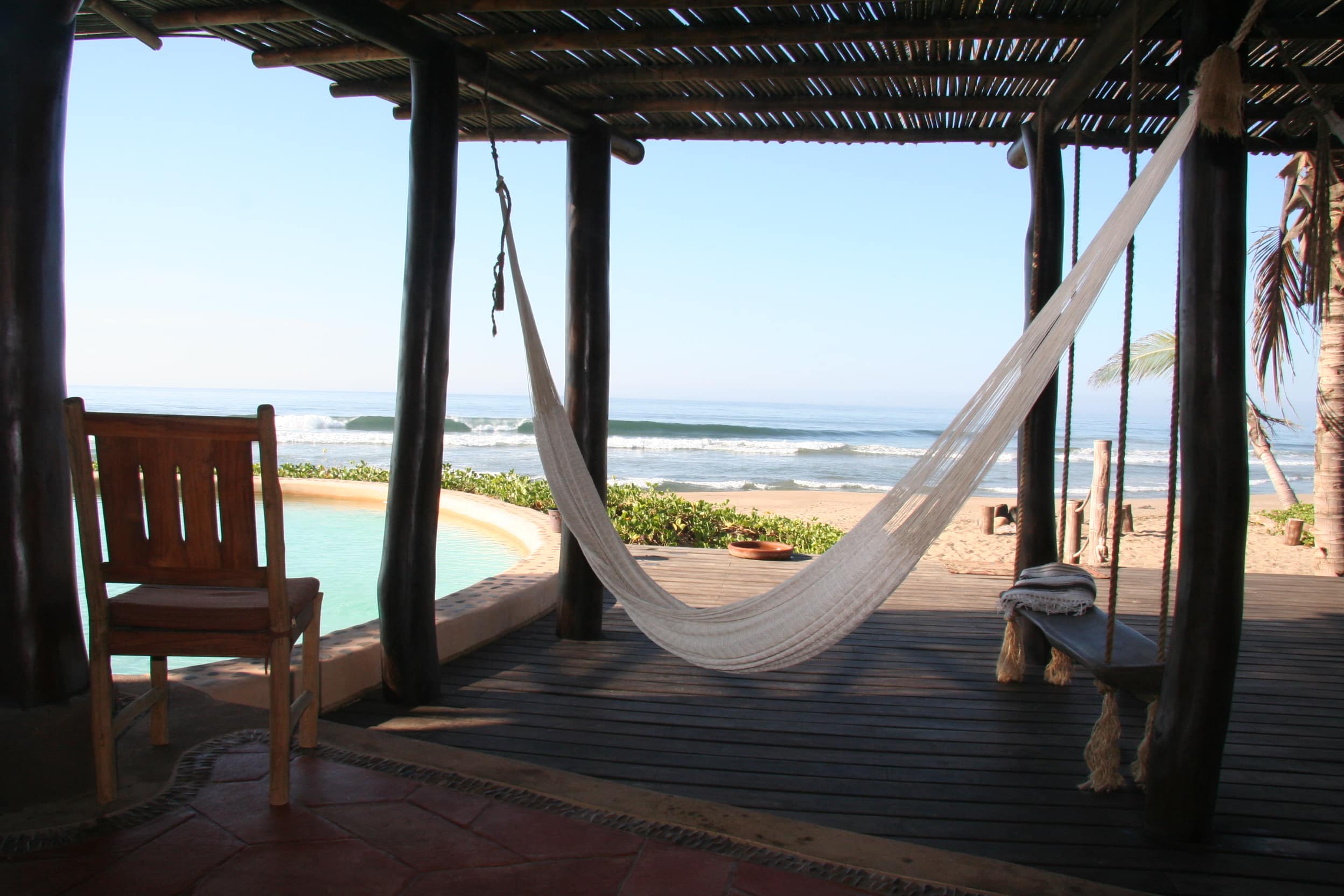 I arrived at Los Angeles at around 12:00 noon yesterday. My friend Matt picked me up from the airport and we went out to lunch at Birds where we met up with Dave. We then ventured to Santa Monica beach where there was a serious ultimate Frisbee game going on that took up the entire beach. I realized how much I missed California. The sunsets, the smells, just the whole feel of it all. At 4:30pm I arrived in Zihuatanejo, Mexico after a bumpy 3 ½ hour flight from Los Angeles. My arrival at Playa Viva did not fall short of anything of what I had expected. Actually, it was more than what I'd expected. Johnny, one of the staff, welcomed me at the baggage claim and we drove 40 minutes through the little towns of San Jeronimito, Petatlan and Juluchuca until we reached a dirt road that would take us to Playa Viva.
The signs were perfectly marked as we and headed towards the Pacific with fauna and gardens on either side of the narrow dirt road. We crossed a riverbed along the way, the dry season enabling us to successfully maneuver our way over the shallow current.
Once we arrived I could not believe my eyes and I realized that the pictures online just can't do justice. Julia (the manager) sat down with me at the side of the pool and she gave me a layout of the resort, the local area, and explained to me her responsibilities as a manager. The sun was setting. I couldn't help but notice the healthy glow that shimmered on her face as the sun beamed a radiant orange. The pool, the playa, the ocean, everything seemed to glisten perfectly with the sunset. The Pacific to the palm trees draping over the hammocks to the soft sands and the cactus. This is an oasis.
Dinner was served. A plethora of wild shrimp in its shell, rice, beans, fresh salad with lettuce picked straight from the garden, steamed vegetables, queso, broccoli soup…. All home-made… accompanied by a rice/oatmeal drink, made from scratch, called horchata.
I now lay in my cabana perched high up above in a bamboo structured bungalow and I can't escape the sounds of the crashing of the waves. They sound as if they're 20 feet away from me, but in fact they are about 100. I feel warm, moistened, calm, and clear minded. I am ready to explore, learn, and grow as I take on this new phase of my life here at Playa Viva.