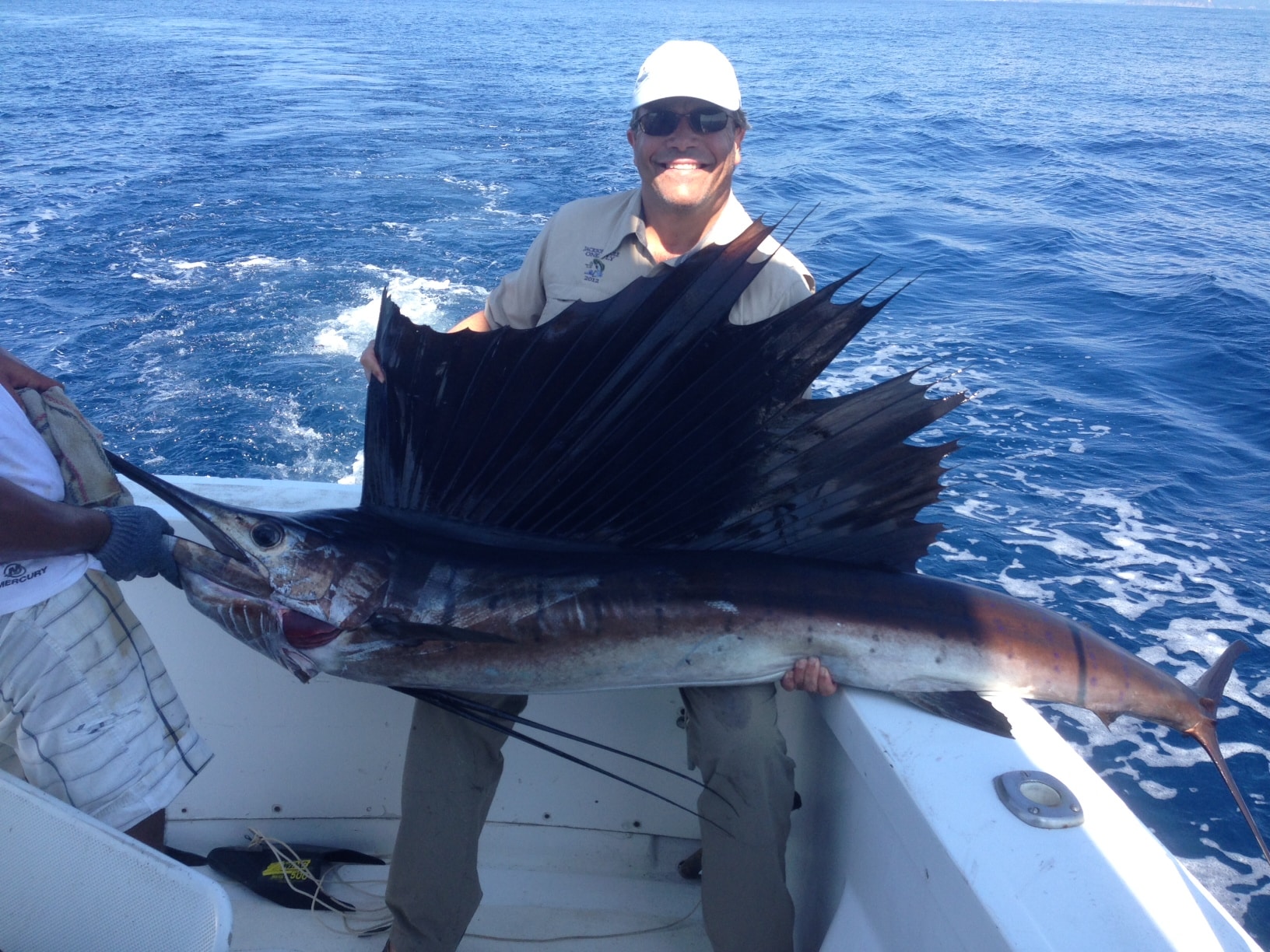 Contributed by Martin Goebel – As a fisherman you are usually prepared for anything, mostly disappointment.  Not on this day in Zihuatanejo, Mexico.  Organized by "Johnny," one of the guides at Playa Viva, a wonderful, close-to-nature eco-resort, I went deep-sea fishing over Thanksgiving week.  It was magical.  The dolphins and turtles graced the deep blue water.  They were everywhere.  Then, at six miles out and about 11AM we started getting hit by sailfish streaking every which way like fine lances through the water.  At one point we had "four on."  That was wild.  In the end, I think we counted eight landed (six released) and many more hooked.  "Capitan Jaime" annointed my largest a trophy of 80lbs!  It felt bigger.  Promise.
What a day!
NOTE: See video of dolphins click here – https://vimeo.com/82021769
About the author  – Martin Goebel is one of the pioneers of the sustainability movement was a recent recipient of the prestigious Earle A. Chiles Award for his contribution to the movement. His desire to find solutions that work for communities, businesses, and the environment during the timber and salmon wars of the 90's led him to create Sustainable Northwest in 1994. Born and raised in Mexico, Martin's conservation career includes leadership positions in The Nature Conservancy, Conservation International, and World Wildlife Fund. He has helped found several organizations including the Mexico Nature Conservation Fund, Wallowa Resources, and Lake County Resources Initiative, and was a founding member of the Oregon Sustainability Board. Currently, Martin recently serves as founding principal of Moebius Partners LLC, a firm dedicated to assisting social entrepreneurs and enterprises to secure human knowledge and financial capital to grow and succeed. Martin is an avid scuba diver and fly fisherman, and enjoys exploring new cultures, rivers and reefs any chance he gets.