Treasures abound at Playa Viva.  The garden is overflowing with jewels from the land with lettuce, carrots, beats and tomatoes. So many tomatoes. The staff doesn't know what to do with them. What do we do with all these tomatoes?
And then, David surprised us all with his unannounced arrival at Playa Viva. All I knew of David was that he has been instrumental in providing me the opportunity to intern here at Playa Viva. After a couple of days doing work with the team and catching up on life at Playa Viva, he offered me the opportunity to go to the town Pátzcuaro with him to gather needed supplies for the hotel. Seems that after a full season at Playa Viva, it was time to replenish the famous pottery plates. Oh, yes, and about the excess tomatoes, David had decided we need mason jars for canning tomato sauce. I didn't realize how hard it would be to find such a simple item here in Mexico. For the first time since my arrival, I stepped out the wild, natural setting of the beaches of Mexico and headed  for the mountains of Mexico for a completely different cultural experience.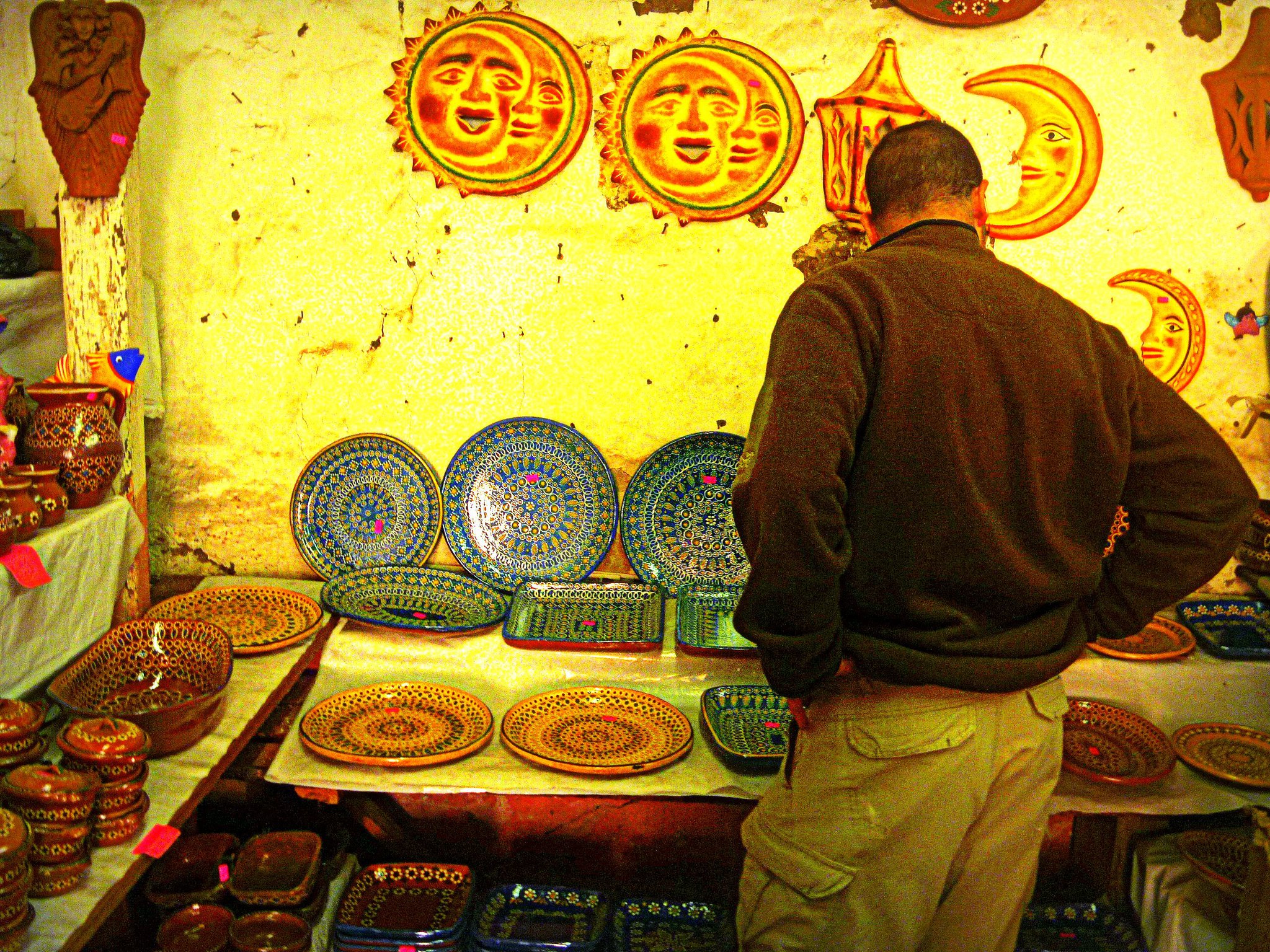 The four-hour care ride to Pátzcuaro was anything but boring. I watched the landscape turn from coastal forest and coconut groves into cactus desert hills and then a low mountain forest followed by a full pine forest of green lush hills and fertile valleys. I learned of the many strategies David has for expanding Playa Viva. One of the primary attributes behind the ideas in both creating the resort and expanding, is the attention to detail he exemplifies throughout the property. Attention to detail in service, architectural and the design elements that stress local craftsmanship and organics above mass production items.
For all I knew, we were going to some industrialized factory to get the tableware for Playa Viva. It wasn't until we veered off to the side of the road and arrived at a little family owned artisan pottery shop that I experienced David's attention to detail first hand. We must have spent at least three hours as I watched him carefully pick out hand-painted plates, bowls and delicately decorated salsa cups for the kitchen and dining area. My contribution was choosing a few coffee mugs, patience and a plenty of positive input. This first stop proved that David really knows his stuff and where to go to get the best of it. It wasn't until later that I realized how long it must have taken David to find this one artisan to begin with, he must have spent hours looking at hundreds of road side shops before settling on the craft of this one family.
Handmade, quality wool blankets were another object of our search in Pátzcuaro. I gave my two senses as to which colors to choose, but David seemed to be on the right path. Nude, grey, light brown and creamy whites – all natural colors – no artificial colors – simple native patterns and natural colors were the theme in David's selections. These blankets are authentic to Mexico and to this area, and delicately handmade. We then took a walk through the local outdoor markets in search of place mats and those ever elusive mason jars. I watched as elderly, native Mexican men and women peddled their wares, crafts, baked goods, fruit and delicious tacos on the sides of the streets.  We sampled coconut honey macaroons, fruits I'd never seen before, grilled corn, hot chocolate and a little local Mezcal (we purchased a few bottles from local distillers).
Throughout the day David received phone call after phone calls, while focusing on the vendors and finding the perfect items to take back to Playa Viva and still maintained enough energy for the 4 hour car ride back! David would strike up conversation with anyone about anything. From the taco guy to the old woman selling hand-woven baskets, he never brushed anyone off or got tired of striking up conversation. This was something a lot of people especially Americans, don't take the time to do anymore. With the rush of society, good and random conversations with strangers get pushed aside.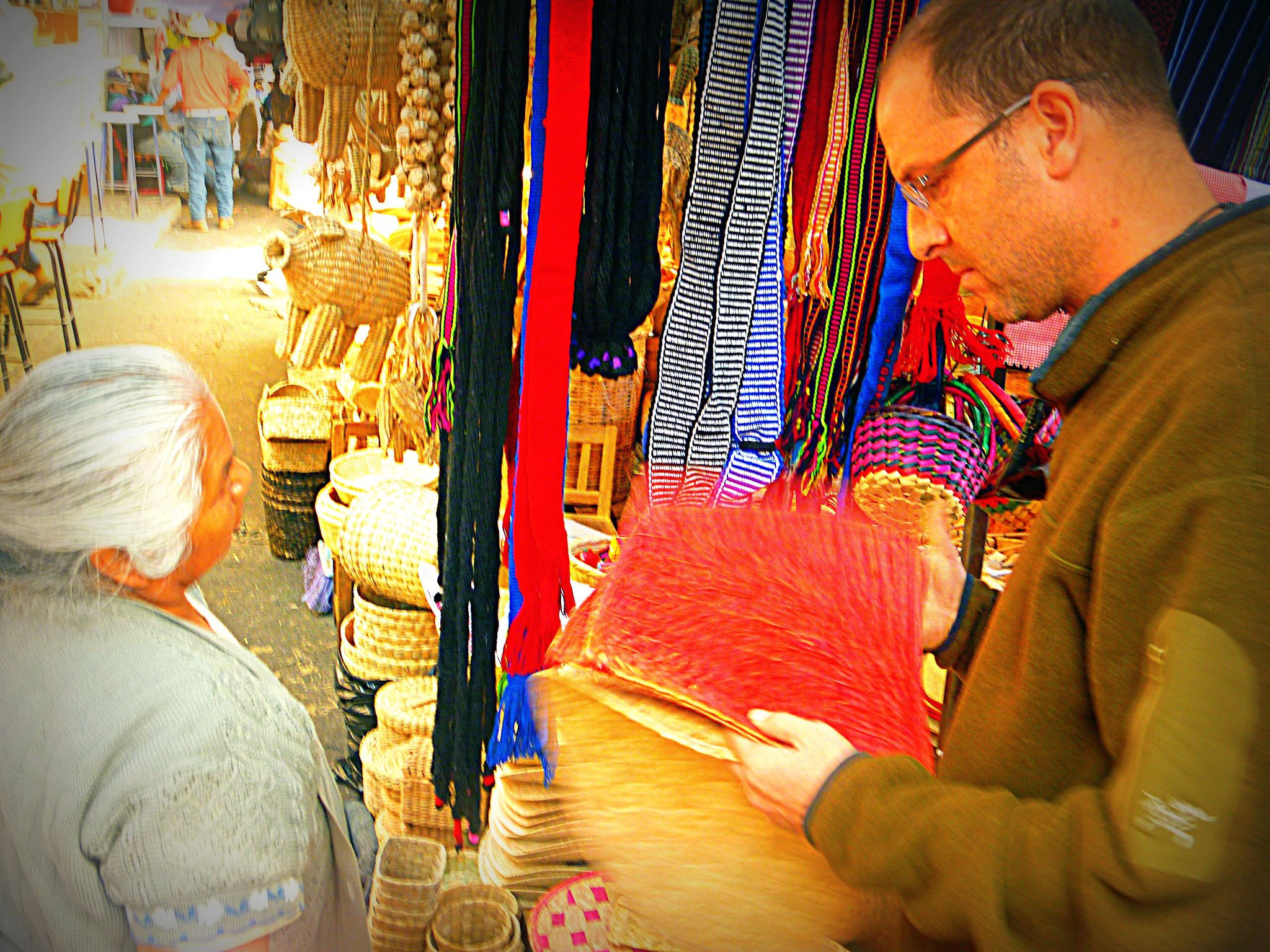 As we were about to leave, we were walking by a tortilla shop that was pressing freshly minted tortillas when suddenly David spotted one more hardware store that might hold promise of the final item on our list – those darned mason jars. He was more excited than I, as he bought out the entire collection of just over a dozen jars. The search was over. The list was now complete.
Precision is an important attribute to Playa Viva's style. Everything from the plates to the Mezcal is authentic Mexican and local. As I observed David putting his all into the choices he makes for his hotel, I can't help but care for the place in the same way that he does. It adds a feel that most resorts are lacking; true, genuine, personally chosen materials that just contribute an extra bit of happiness and tranquility for the guests, and are underlying the five-star reviews that guest later post on sites like TripAdvisor.
In the kitchen, Olga is filling the last of the mason jars with an oven baked tomato sauce. The jar lid pops into place, confirming the seal and Olga lets out a familiar chuckle.  Gloria carries the new blankets off to beds ready to be made warm for the night.  Minerva separates out the pottery destined for the boutique and those reserved for guests.
Blinded by the fluorescent orange ball of solar energy, I recall key moments from our trip as I gaze into the sundown. The salty breeze heavily coats my skin and enriches my senses. A black bird fades in slow motion towards the sun as it sinks into the distant abyss. Is it China that is sharing this "sol" now? The timing is perfect as the humpback whales wave in and out of the soft, clear Pacific waters. The palm leaves wisp in the air, breezing towards the Southern hemisphere. A misty fog froths above a shallow meter upon each wave; the sky now reflects a spongy ginger luminosity. Twilight begins. The "luna" arises over my shoulder, slowly creeping higher and higher above the distant mountains in a crescent shape. Guests gather around the bar for a taste of Johnny's salty, organic basil margaritas. They ponder the new additions to the bar, odd-shaped bottles. Ah, Mezcal, the taste, one smokey, the other with a tinge of vanilla and the third, is that a hint of citrus? What a perfect end to an enriching experience.