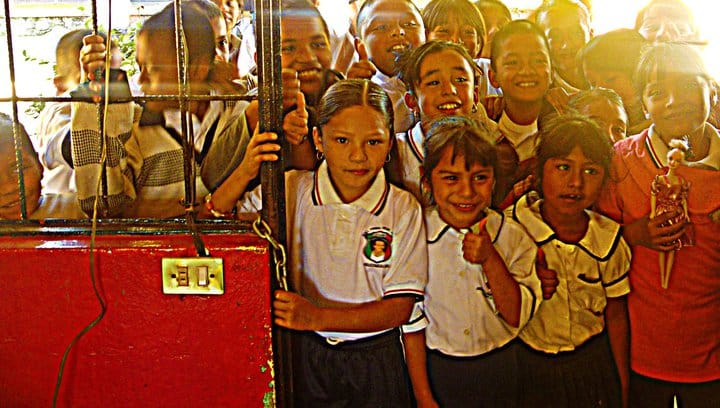 Warm smiles and lively energy make trips to Juluchuca school always exciting! One of the complementary recreational tours we provide here at Playa Viva is the "local tour". The local tour includes a trip to the coconut candy factory, salt flats, basil farm, tour of the town, and, when guests participate in the "Pack for a Purpose Program", a stop at the local grade school which sits adjacent to Johnnys vibrant house.
The children at the school are always so welcoming to Playa Vivas guests. They love to see new faces and the principal is always  curious to see what Playa Vivas guests provide every time. Yesterday Johnny, Jaime and I went to the school, accompanied by two honeymooners staying with us. The couple, Brian and Mary Beth, from Oregon, were delighted to provide the school a wonderful collection of children's books. Everyone was pleased as the children gathered around all of us with happiness and hugs.
Part of my role at Playa Viva has involved working with our partner "Pack for a Purpose" on co-promotion activities including creating videos of the guests with the children and the school as a whole. Yesterday, Jaime filmed as Johnny (our faithful translator), the principal and I exchanged questions and answers. As I asked the principal to assist us in updating our list of the supplies the school needs and some of the supplies he mentioned they needed were dry erase markers for their white boards, plain white paper, soccer balls, lunchroom tables and chairs, green and yellow paint for the school, and of course computers or laptops since they only have two. Some of these items are a too heavy or inappropriate for guests to bring in their luggage and others are just too expensive , so we are trying to come up with alternatives that help meet the guest's baggage and budget restrictions.
As we discussed this problem we came up with what might be an appropriate soluiton.  One option would be to develop a series of "volunteerism" projects between Playa Viva guests and the school.  One project would have guests not bring supplies but rather donate money once they arrive to purchase items such as paint for painting the school. We would then coordinate a half-day project and paint the school with the kids and their parents. I brought this idea up to the principal and he agreed this was a wonderful idea and suggested that he would welcome Playa Viva guests to work together with the children and their parents to paint the school.
Another idea was to involve the kids in a "Juluchuca Clean-up Day". Guests and children from the school (and their parents) would work together picking up rubbish along the beach, river and in "clandestine" dump sites and afterwards all participants would be rewarded with a pizza party with hot, delicious pizza straight from the Playa Viva kitchen!
There are many great ideas floating around so hopefully soon we can get the ball rolling!
But one things for sure, "Pack for a Purpose" and Playa Viva guests' efforts with the local community have helped the Juluchuca school greatly.