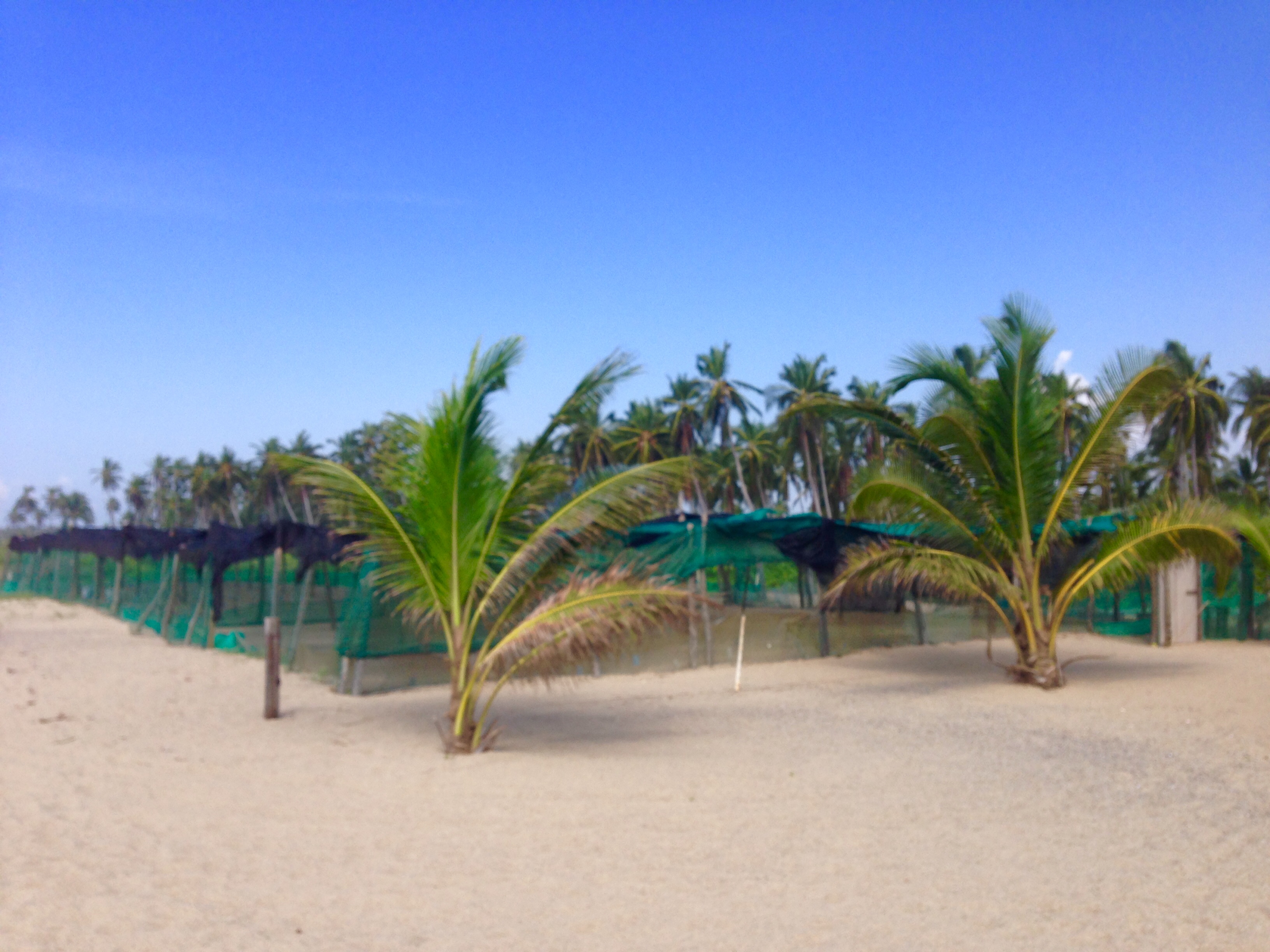 With an average of 6 turtle nests ransacked by predators each night, the more that our volunteer team can reach and relocate to the safe, secure haven of  La Tortuga Viva Turtle Sanctuary, the better!
Yet our rivals – mainly coatis and tejones – are a cunning bunch, and as they refuse to rest on their laurels, nor can we.
So as they continue to adapt and find new, innovative ways to defy our sanctuary security measures,  so must we strive to stay one step ahead. (And if there's anything we relish, it's a challenge!)
Cue our January renovation project:  Predator-Proofing Round Two.
Our mission? To rethink our security strategy, helping us to remain in the winning corner for the 6th year running…
Step 1: Strengthening the Structure 
While our unique position – just a stone's-throw away from the seashore – is one of our favourite features, Playa Viva's picturesque setting still brings with it a couple of drawbacks. Case in point: weathering.
Although we carefully select the most durable local materials available when building our 100% natural structures – from our eco-casitas and yoga studio, to our plant nursery and turtle sanctuary – we're also well aware, that soon enough, these will all require an upgrade.
Thankfully, many hands do indeed make light work, and so our team of volunteers – permaculture staff, locals and international workers – made replacing the 100+ wooden posts that lined the sanctuary perimeter, and provided sturdy support for the mesh roofing, look a lot easier than 5 days of solid work under the burning sun would suggest!
Step 2: Climb-Prevention Canopies
Fearing that turtle egg predators weren't far off mastering their mesh-climbing skills, and would soon be scaling our wired walls with spiderman-like ease, it was time to put our heads together. Head of permaculture, Sapo – known for his awe-inspiring problem-solving powers – came up with a solution in no time, a mosquito-mesh canopy, along with a comprehensive construction plan detailing how exactly the design would work.
(That's one of the beauties of being part of a living, breathing, continually-evolving project such as Playa Viva; who needs a blueprint when you've got your killer instincts to rely on, and sufficient head-space to hear them!)
Thus, the team set about cutting the mosquito mesh to size; threading pliable wire through the top and bottom (the top, to attach it to the wire mesh; the bottom, to hold the mesh between posts in place); fitting wooden supports to the perimeter posts; and finally, attaching the mesh to the wooden supports. So coati be warned – you may get up, but you certainly won't get over!
Step 3: Blocking the Diggers
Having dealt with the 'up and over' style of break-in, our final step was to thwart the attempts of those who may call our bluff, and choose the 'down and under' approach…
For this solution, mesh came up trumps again – as did Sapo – who decided that a deeply-embedded, double-mesh-whammy would create the ultimate predator barrier.
And so, trenches were dug, wire mesh walls were pulled down and repositioned, and an extra mosquito mesh was laid on the inside – all ensuring that no creature, however great or small can pass through the net…quite literally!
La Tortuga Viva (The Living Turtle) Background: Situated at the southeast corner of Playa Viva, the sanctuary is run by an all-volunteer staff, comprised of members of the local community. These are fisherman and farmers who recognized the damage being done to the local turtle population and decided to make a difference.
To make a donation click here.
Read the 2012-13 Annual Report click here.