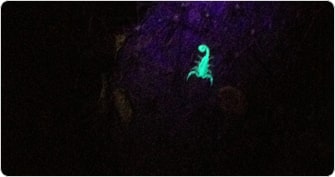 So what's all this I'm reading about Scorpion's at Playa Viva?
There are some blog posts you are reluctant to write but know that you must post someday.  So here it is. Scorpions. Yes, Playa Viva has scorpions as do most all tropical and even desert locations throughout the world.  The question isn't do we have them, but what are we doing to minimize the risk that you might be stung by one.
First, while PV does everything possible to provide our guests with a chemical and poison free environment, we draw the line when it comes to scorpions. We have eliminated chlorine from the pool and use salt (sodium chloride). We use natural pesticides like Neem Oil to reduce sand flees and other pests.  But when it comes to rats and scorpions, we have found that poison is the only way to safely eliminate these pests for the greater health and well being of our guests. If any of our readers know of or can recommend a source for safe yet effective means that do not use poison to help eliminate or reduce the populations of these two pests please let us know.  We will not use cats as they do more damage to bird and lizards than to the mice and rats — always trade offs.  So pesticides is the first line of defense.  We do our best to reduce your exposure to these harmful chemicals.
How real is the threat that you might be stung? Risk of sting – since Playa Viva opened in November of 2009 to date (December of 2013), we have had a total of 3 stings. One sting left the guest's finger numb for at least a month, but she felt secure enough to send her daughter the next year to complete an internship on "Cooking and Tourism" at Playa Viva. The result of that internship was the discovery of our most popular excursion to the sierra.  The second sting was so benign that the guest said it "hurt less than a bee sting." The most recent sting was to a woman who was at PV with small children. As a result of that sting, the two families decided to leave and then wrote the ONLY 1 and 2 star review that PV currently have on TripAdvisor. Their review were probably more a result of their not being provided a refund (against our strict policy but yet they did not accept a generous credit towards future stay). While we prefer not to get bad reviews, these two listing have raised the attention of the potential of a scorpion sting at Playa Viva.  While their negative reviews are more visible, the fact remains that ONLY 3 stings in 5 years of operations means that you have a very low chance of being stung.
That said, NOBODY wants to be the next person stung. I have not been stung yet and certainly don't want to nor do I want my children stung.  So what are we doing to further reduce the risk. First, we purchased blacklights not just for the rooms for guest use, but we also purchased lights for every member of our team for their use at home and at Playa Viva. Our security team is now incentivized to hunt, gather and eliminate from the property (near the hotel) any scorpions they find during their night watch. As a result of this incentive program, the security team has significantly reduced the number of scorpions near the hotel. Additionally, they are learning where scorpions nest and are more likely to be found. This has changed the nature of spraying from spraying in and around the rooms to spraying in and around areas the locations where scorpions are more likely to be found, stopping them from every reaching the rooms, paths or common area.
So what can you do to reduce the risk of being stung by a scorpion while at Playa Viva? Here is what I do. 1) I shake out my towels or clothes before using them. Scorpions like to burrow so this is the best way to "shake them out." This especially includes shoes.  2) Use the blacklight to do a quick check around your room. Scropions will shine florescent green under blacklight. You can't miss them under the blacklights. We have provided fairly strong blacklights in the room for this use. I also take my blacklight to bed and do a cursory check of the pillows and sheets. Since our team does turndown service and beds are protected by mosquito nets, you are highly, highly unlikely to find one in your bed, but it is best to check. 3) Wear shoes or flip-flops around the property, especially at night and early morning.  We find that scorpions generally come out at night after about 10 and are back to their nests before dawn.  If they are found in the rooms it is ONLY that they got stuck there after the sun came up and didn't have time to crawl back into their woody nest. 4) Go on patrol with the security guys at night looking for scorpions. Once you see how brilliant they stand out in the blacklight, that will provide some understand of their visibility and vulnerability; also, once you see how few are located near the rooms (that is, if the security team is doing their job) then that too should make you feel better.
Why aren't we more aggressively warning our potential guests about scorpions?  Now that we have the two reviews from disgruntled guests about scorpions, we probably don't need to say any more other than what is in this blog post.  Requiring us to write on our homepage "Danger Scorpions" is like requiring a ski resort to write "Skiing Can Cause Broken Bones."  We do clearly state that you are in nature and you will experience all kinds of bugs and animals. Some are cute such as the baby turtles or the coatis and others are not so cute like scorpions and snakes (the team saw a nice size Boa wrapped around the pool pump).  Overall, our goal is to provide you with a relaxing vacation and the threat of a potential scorpion sting is NOT RELAXING.  So we will continue to do our best to reduce the risk of scorpions while telling you how you can take precautions to reduce your risks so that you can relax and enjoy your vacation and stay at Playa Viva.  Thousands of guests have come and stayed with us without incident, we will do our best so that you have an equally relaxing and enjoyable stay.
Please let us know if you have any further question about this issue.