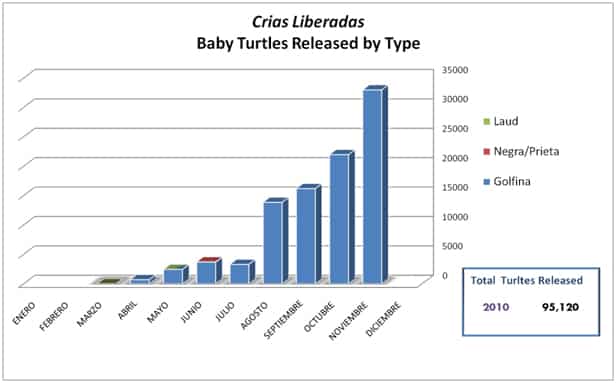 It's been a while since we have posted statistics for the turtle sanctuary.  See updated statistics in the graph to the right.  The good news is that we are now supporting La Tortuga Viva, a group of local volunteers who have worked hard this year in protecting and releasing close to 100,000 baby turtles. We hope you will join us in continuing to support the turtle sanctuary through your donations. For more on our transition from La Tortuga Feliz to La Tortuga Viva – see our annual report online.
How can you help:
For just $20 you can buy a baby turtle as a gift for a friend or relative over the holidays, please go to The GreaterGood.org.
Alternatively, make a tax deductible donation of $50 or $100 or more directly with our fiscal sponsor, the Ocean Foundation, by clicking here.
We just purchased 4 new tires for the ATV with the assistance of a grant of $2000 from the Minnesota Foundation. Next year we have the opportunity to double the number of turtles we can protect and release back to the ocean. Please help us in reaching our goal of raising $10,000 for the turtle sanctuary to purchase a new ATV and provide gas for a year of operation.
Thank you for your support.