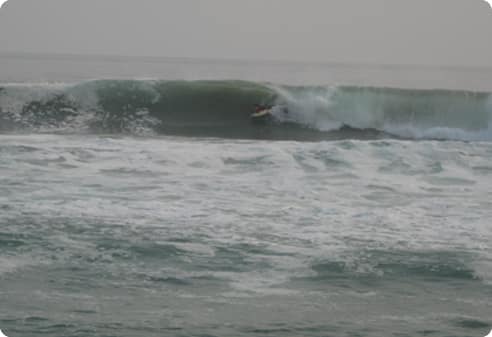 We arrive into Zih on an uneventful flight from SFO.  (Thank you very much).  It's been almost 3 years since I first laid eyes on the rough terrain of Playa Viva.  Then, Playa Viva was merely a 'regenerative vision'— where David had me tromping through every nook and cranny of this rugged land.  ("Pahleeese, David— can we just sit down and have a cervesa?  Where's that chocolate, anyway!?").  Playa Viva was raw and graceful all at once.  And while I loved hearing the vision, I'll admit that while swatting mosquitoes and dripping from the July heat, I was a bit dubious.  David's eyes assured me that it would become 'home' to those who truly love all that this part of the world has to offer.
Fast forward a few years and here I am.  With my two teenage sons, and two surf pals, in tow.  The vision manifests itself before us.  Definitely exceeding any and all expectations. There is an attention to detail in the lifestyle here at Playa Viva that is both difficult to ignore and yet, seamless.  As if they want you to know how cherished your presence is, but— no worries, we do this for you because you are important to us, not because we are looking for the next tip. From the warm smiles and cool lavender towelettes that greet us, to the natural elegant structures that are designed to enhance the surroundings, to the healthful cuisine– the details do not escape us. They are so befitting the environment.  Well thought out, and effortless to those of us lucky enough to be here.  And, the location.  *sigh* … I guess someone's got to be here, right?
My being here at Playa Viva is personal.  And, with all that Playa Viva has to offer as an eco-resort, it's the personal side that resonates most.  It feels as though it has been designed just for my sons and I.  Just exactly what our hearts needed.  While we are not alone here— the company we share only emphasizes the personal experience.  We easily exchange email and fb addresses because we know that what we are sharing among others is extraordinary.  And, we want to keep reminding one another of this, in the days to come.  It's personal.