Last night the moon was half-full in the night sky, obfuscating the stars and reflecting off the waves.  Playa Viva was full of guests, we had a great group come, organized by Suzanne Biegel, an early investor and supporter of Playa Viva. We stayed at the dinner and talked long after the meal was done as I answered the "usual questions". How we came to Playa Viva?  Why we built the way we did? When do we release the turtles?
After most of the dinner crowd wandered off to their rooms, I ended up staying up till midnight talking to one of our guests, Lisa Renstrom, former Sierra Club President, about her work with ecoAmerica in creating real change around the environment. We talked until I was delirious and couldn't form a coherent thought, but all the connections we had in common kept us up late into the night, until our conversation was punctuated by a small earthquake, maybe a 3.0 that lasted about 4-5 seconds.
Soon after I went up to the observatory and fell asleep, or so I thought, soon after I was awoken by a member of our security team. The turtle sanctuary volunteers had radioed in that they had come across a Leatherback turtle laying eggs about a half  a kilometer down the beach. Did I want to go?  Of course!  The night was chilly, I wrapped a towel around my shoulders and hopped on the ATV and headed out to experience something I've never had the chance to do in all the time I've been at Playa Viva – be next to a Leatherback.
The Leatherback Turtle is highly endangered. To give you an idea of how endangered, out of 200,000 turtles released on the beach here a few years back, less than 500 were Leatherback. That means less than a half of a percent of all turtles on these beaches are Leatherback.  A one in a million chance that on this night, the earth would shake and a Leatherback would emerge from the waters at the right time, in the right place…and there I was, next to this glorious creature as it was laying her eggs.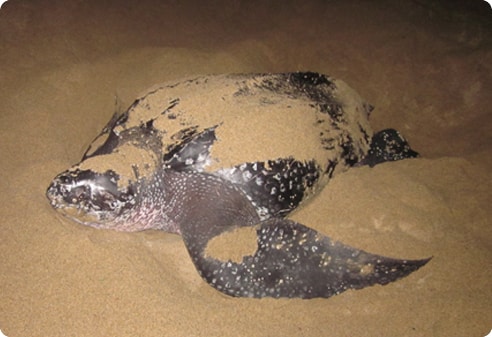 What an awesome responsibility we have to protect this species.  She was immense, probably over 500 pounds and close to 6 feet long from head to toe.  What amazed me was how smooth her shell was, as if the ocean had polished it, silky smooth, yet rock solid, like fine marble.  She also seemed so vulnerable.  Had the wrong group of human beings come across her, she would have been cut into meat and carried off to some underground market, slaughtered, her eggs purchased as precious aphrodisiacs.  Yet, there she was, in our charge, her eggs would be protected, her babies would be secure and released back to the wild, protected from predators – dogs, raccoons,  badgers, people – that also patrol this stretch of peach looking for turtle eggs.
The night was dark, the half-moon that had illuminated the sky hours ago was long gone. This grand turtle had entered under the cover of darkness to deposit her treasure.  As she finished laying her eggs, she covered her tracks, making several "false" nests to make it harder for predators to find her eggs.
I looked up into the heavens.  Millions of stars, the Milky Way's cloudy trail clearly marked across the night sky.  What a night!
Help support the turtle sanctuary volunteers – click here to donate.