When we first undertook the GIIRS (Global Impact Investing Rating System) assessment in 2013, we realized that while we thought we were doing "all the right things" we could do a better job of tracking our progress to see if we were actually getting it right. Thus obtaining key metrics and measuring our performance against those metrics became our goal for Season 4.

We decided to start by tracking a few easy, or at least we thought they should be easy to measure, key items. They were our usage of: Water, Electricity and Natural Gas, plus keeping track of the Waste we created (Compost and Recycling), and finally tracking the school supplies donated by guests under our Pack for A Purpose partnership.
As a prelude to sharing the results, I must confess that our tracking systems are not extremely scientific and many of the measures are, well, estimates, especially when it comes to water consumption. In the case of water consumption, the ideal scenario would be to have a water meter on our supply tanks and have 100% of water flow through those tanks. In reality, we have two 10,000 liter tanks (for hotel use), one 5,000 liter tank (mostly used for agriculture irrigation) and a 2,500 tank (usually for reserves).  We sometimes have a water truck come and fill the pool with river water (which is generally not included in the water measurements). Finally, we measure our water usage with help from our maintenance and security team: one of them usually climbs the hill to where the water tanks are located and tries to estimate of how much water it will take to fill the tank, and using this figure can estimate how much water we've used in the last 24 hours. It's not the most precise process, but, in the aggregate, is probably not that far off from our actual usage.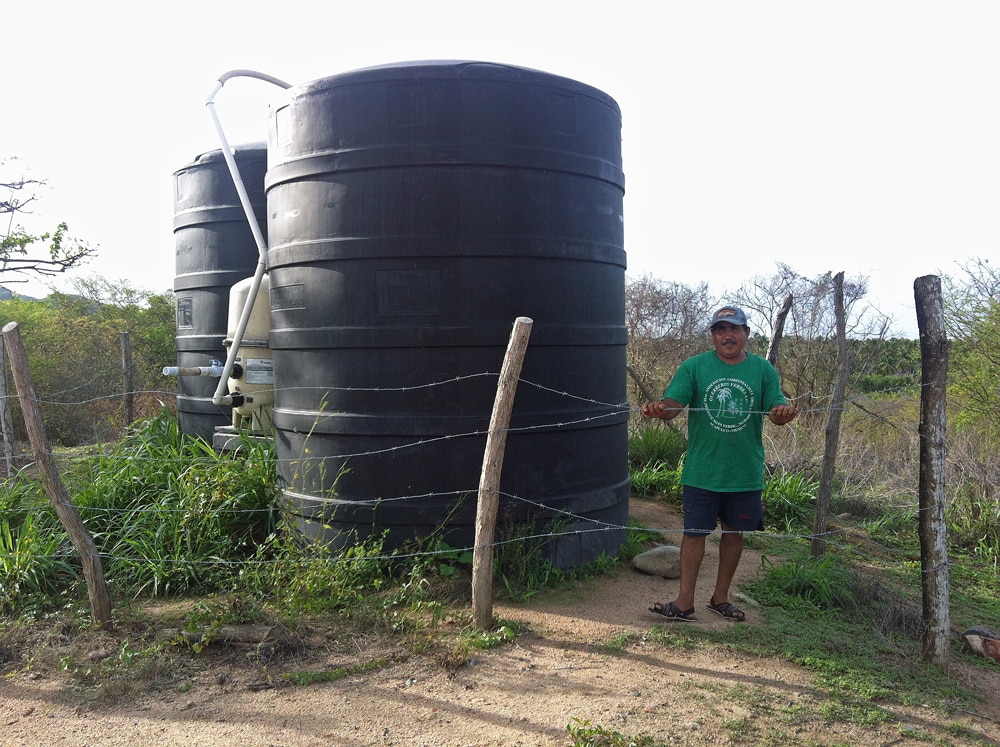 Members of the security team also take readings off our solar system to estimate our energy consumption during the last 24 hour period. But they often don't get readings  at the same time of day and sometimes the readings that they record are so off from one day to the next (even when the number of guests stays the same) as to indicate that the person doing the "reading" might be mistaken in the data they are transcribing – either recording the energy level in the batteries or the total energy produced, rather than the total energy consumed.  For example, we might see readings of 54-58, usually the level associated with the batteries, while the readings the day before and day after with the same number of guests might be 24 or 29.5.  We will work on increasing data accuracy, which means more staff training as well as adding better metering equipment, like a simple water meter on the water tanks to provide daily and cumulative water use.
Playa Viva – Resource Utilization Averages – Season 4
Regardless of how accurate the numbers may be, our results are still interesting. The following are the results obtained for Season 4 (Oct 2012 to July 2013) – the quantities are all listed Per Guest:
Water: 470.94 liters
Solar: 1.42 kWh
Gas: 43.88 liters
Compost: 2.19 kg
Recyclables: 0.14 kg
Putting the Numbers in Context
So you've seen our results, but how do these numbers compare to "normal" use? A quick search found the following comparable figures.
Agua – For the question of, "What is the water usage per person at a hotel?", my research resulted in figures as low as 250 liters per person to 1800 for a luxury hotel guest. Interesting numbers from a sustainable tourism site state:
"For example, the average water consumption in Antalya City (Turkey) is 250 litres per person a day, while the average water consumption in the tourist areas of Antalya exceeds 600 litres. In Mallorca (Spain), water consumption in rural areas is 140 litres per person a day, in urban areas 250 litres, while the average tourist consumption is 440 litres, or even 880 litres in case of a luxury establishment (EEA, 2001)."
Given the numbers above, we seem to be slightly higher than average tourist consumption for Mallorca, Spain (470 at PV vs. 440 in Mallorca) and definitely lower than a typical "luxury establishment."  Working with staff and guests, I would like us to target consumption of 440 or less per guest for Season 5 (Oct 2013-July 2014).
Electricity – So how does our electricity usage compare? Given that we are 100% off-grid solar and employ many strategies for limiting electricity use, including the use of two gas refrigerators, I would expect our usage to be lower than the average hotel or even home.  The best numbers I could find related to energy use boiled down to usage for the average American of about 8-13kWh per day, and Americans are by far, the largest users of electricity in the world.  Even given the potential of inflated numbers due to inaccurate readings by our team, the average electrical usage per person, per day at Playa Viva was only 1.42kWh, about 10-20% of the average per person in the US.
Other Metrics and Notes
I have yet to do similar comparisons of compost and recyclables or even natural gas usage. If any of our readers can suggest good data sources on these, we would appreciate your recommendations.
In January 2013, we basically doubled our solar array, thus doubling our ability to produce solar electricity.  At the same time, our gas refrigerators have reached, for the lack of a better term, 'full depreciation.' Thus, our use of natural gas should go down significantly as we limit its use to cooking and the backup generator.  Electricity use will go up as we replace our gas refrigerators with electric refrigerators. The gas backup generator, I'm happy to say until the writing of this blog, has only turned on for its weekly automatic test and has not had to be used for a full system "backup." This may change with the addition of new electric refrigeration. In summary, at least now we have some basic measurements and can compare usage over time. We now can measure and hopefully better manage our resource utilization and reduce our overall environmental impact.
If you are interested in more information about these key metrics or recommend that we keep other measurements, please let us know what interests you.