FEBRUARY 11-16, 2017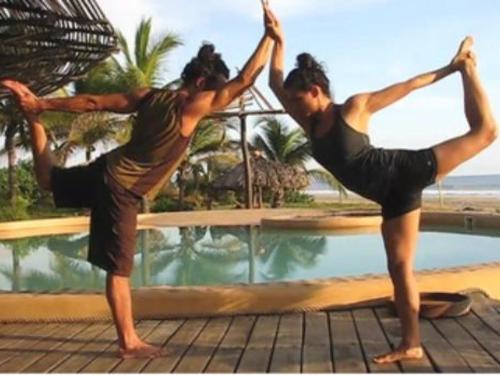 Celebrate Valentine's Day with this Somatic Exploration and Connection Retreat for Couples
Join us for a rejuvenating Valentine's retreat exploring somatic connection through yoga, improvised movement, and therapeutic touch. We will work with both partnered and group exercises to create more joy, flexibility, and heightened awareness in the way we share touch.

This intimate retreat is geared towards couples that would like to develop more sensitivity, play, and mutual support in their relationship. You'll learn deeply nourishing elemental practices that are great for any level. No prior experience is necessary. We will explore creative ways to stretch with a partner, receive and give Thai Massage, and find freedom in your movement through Contact Dance. You can expect to come away with useful skills that will broaden your capacity to relate to yourself, partner, and community.
This amazing retreat will include delicious meals, a chocolate making workshop, fire ceremony on the beach, releasing baby turtles, and unlimited beach exploration.
Optional Activities: Permaculture Hike, Cooking Class, Singing/Chanting Evening
WHAT IS CONTACT YOGA?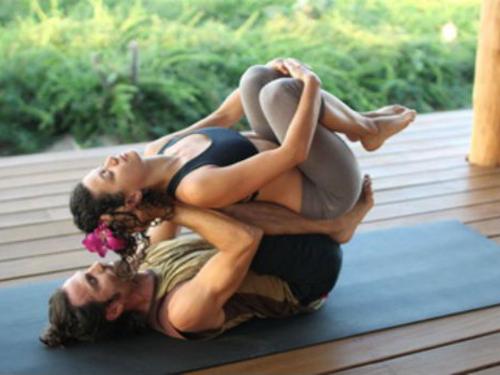 A unique blend of partner stretching, contact improvisation, and Thai massage that develops trust, strength and flexibility. Practices will include deep partner stretching and balancing, therapeutic touch, and improvisational movement -- all so that we can open to greater levels of joy, freedom and presence.
We will start the mornings with pranayama (breathing), meditation, and yoga practice. Our afternoon Contact Yoga practice will focus on creative and effortless ways to stretch, move, and share rejuvenating massage with your partner and the group. Evenings will include music, singing, and fire ceremonies, and a special cacao ceremony to open the heart and senses.
Optional activities will include: ecology hikes, stargazing, and boogie-boarding. You'll have plenty of unstructured time to enjoy the beautiful surroundings, journal, book a couples massage, or take an excursion.
Sounds like the perfect winter getaway? Join us for a deeply nourishing experience to revitalize your relationship at one of most beautiful and remote eco-centers in Mexico.
Don't delay -- there are limited spots and the retreat will likely sell out.
WHAT IS INCLUDED?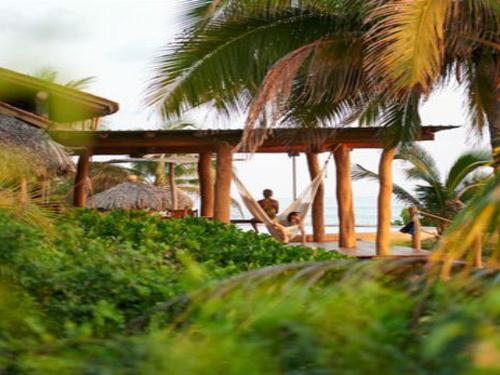 Beachfront accommodations
Roundtrip Airport Ground Transfers (fly into Ixtapa/Zihuatanejo - ZIH)
All Meals ~ deliciously healthy and *amazing* home-cooked
Mostly vegetarian with fish options
5 Nights and 6 Days (double occupancy; single accommodation can be requested)
On-site excursions (hiking, turtle sanctuary, lagoon, etc. - no extra charge)
Morning Hatha Yoga classes
Afternoon Partner Yoga and Massage classes
All in a tropical setting where the ocean and jungle are your backdrop!
All mats & props provided.
Additional Offerings:
Optional Activities: Permaculture Hike with Alok, Cooking Class with Abram
Optional Excursions: Sierra Madre and Temezcal
What's NOT included:
Alcoholic drinks: Playa Viva has a full bar and an incredible house organic basil margarita; individuals responsible for their own bar bill, Airfare, massage, or other activities
Pricing
Early-bird pricing reflected below. Prices increase by $250 on November 30th, 2016!
Standard (per person): $1400 early-bird/ $1650 after Oct 11th (double occupancy)
Deluxe (per person): $1650 early-bird/ $1900 after Oct 11th (double occupancy)
Space is extremely limited for this intimate retreat. Reserve your spot today!
FOR MORE INFORMATION & TO REGISTER:
Go to contactyoga.org/mexico to register.
You can also contact Anjuli for any reservation inquires at: anjulimahendra@gmail.com or +1 (808) 639-2462.
ABOUT ANJULI MAHENDRA, LMT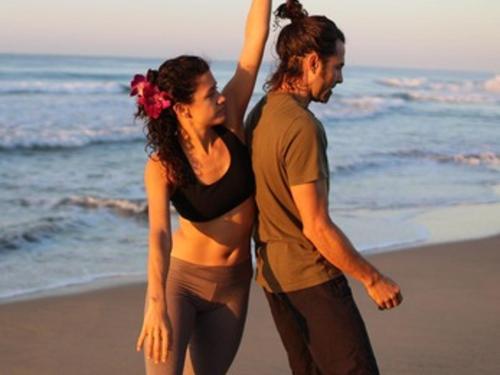 Anjuli Mahendra is a multi-modality healer, teacher, and founder of Shakticura Healing Lounge. Her Berkeley-based private practice, Embodied Resonance includes integrated bodywork, coaching, and workshops that focus on opening the body to it's highest potential. Her connection to holistic movement and healing started in 1999 through a regular Iyengar yoga practice that developed into yoga teaching by 2004. Her adventurous nature took her to Asia in 2004 where she fell in love with the Asian healing arts of Shiatsu and Thai massage, training in both and adding them to her repertoire. Anjuli's teaching style is a unique synthesis of dance, movement, and healing practices. She has developed her unique twist on Contact Yoga, drawing on her somatics experiences with contact improvisation, acro-yoga, and bodywork. In addition to Contact Yoga, she teaches Thai massage, hatha yoga, and dance workshops.
e-mail: anjulimahendra@gmail.com
ABOUT ALOK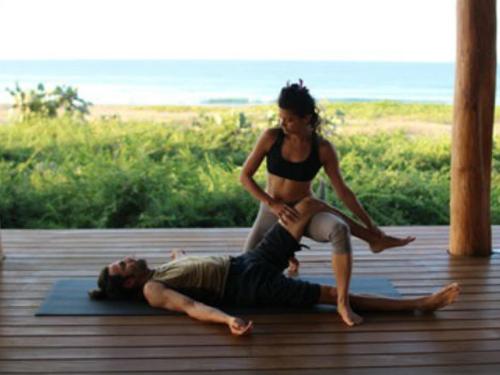 ABOUT ALOK
Alok has taught yoga for 10 years throughout the world, incorporating partner yoga, meditation, and pranayama. He is a teacher and practitioner of Thai Massage and loves to do flying therapeutics. Alok is the founder of Rock Water Healing Arts which focuses on wellness in all aspects of life. Providing massage, yoga, dance, mindfulness, wellness coaching, and nature experiences, Alok's passion is to inspire people to find a healthy balance in their lives through honest connection with themselves and others.
Website for Anjuli and Alok - contactyoga.org
TESTIMONIAL
Alok & Anjuli are masterful at creating a space for learning, connecting and enjoying yoga and the many aspects of it. Weaving together meditation, yoga, contact & partner exercises, teamwork and thai massage happens so effortlessly in a community of acceptance. Each participant is allowed to join at the level and involvement they are willing to. As the process unfolds, so much joy and love is shared, felt and experienced. So honored to be in the dance.
--Cilfford M, Sierra Retreat, May 2016
'Rejuvenating' is the word that comes to mind when I think of the practices Anjuli and Alok share. I had the pleasure of participating in their contact yoga hikes and workshops on several occasions and recently attended their contact yoga retreat at Playa Viva Resort in Mexico. I was particularly impressed with the openness and oneness Anjuli and Alok foster with participants. They are playful and encouraging in their practice and those downward dog high-fives are the best! Anjuli and Alok are a powerful team and together they are amazing teachers.
--Nicole Shea, Playa Viva Retreat, Feb 2016
The location, food, people, turtles, sunsets and all accommodations, were a perfect setting for healing and allowed for personal growth. The guidance and example Anjuli and Alok provide is encouraging which set the stage for open free exploration of self in a safe nonjudgmental environment. It was also made clear this time is for us to grow and we were encouraged to do as much as we were comfortable with without pressure. The positive energy which filled the area was truly encouraging. Thank you for a great experience and look forward to next year. Both Nicole and myself had a wonderful experience.
--Micheal Shea, Playa Viva Retreat, Feb 2016
Know Before You Go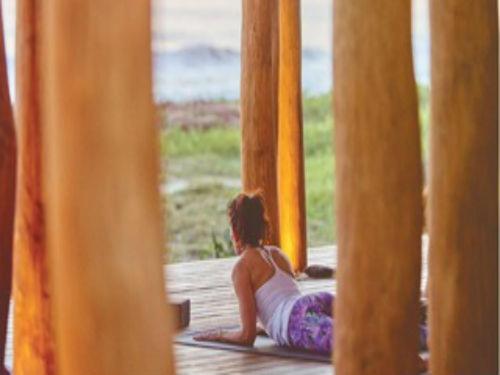 Safety - While the US State Department Warning shows an alert for the State of Guerrero, the beach area is safe for tourist and we would not offer this location if we felt any of our attendees were in danger., Passport - a valid passport is required for international travel into Mexico.
No Visa is required for US or Canadian citizens. If you are a citizen of another country, please check online for visa requirements into Mexico.
Water - hotel provides filtered water in rooms and common areas. All water for cooking is filtered.
Internet - WiFi available in Common Area, Cell Service - Cell service is available but spoty and not reliable.