Resort General Questions
1. What facilities and amenities does Playa Viva offer as part of "all inclusive offering"?

Facilities and amenities include: complimentary airport transportation, daily maid service, daily yoga classes (except Sun or one day selected by yoga instructor per week), pool, exquisite seaside kitchen/restaurant family style meals, daily snacks plus water, "aguas frescas" (fresh fruit juices), tea and coffee. All you need to bring is your bathing suit, light casual wear, flip flops and your loved ones. Not included are massages and offered spa services, beer, wine and alcoholic beverages, blended drinks (virgin margaritas, virgin pina coladas), all smoothies and boutique items for sale plus all other items not specifically outlined as included in rates published on the website. Taxes are not included in room rates. As of 2014 taxes include a 16% Federal IVA/VAT and 3% local occupancy tax.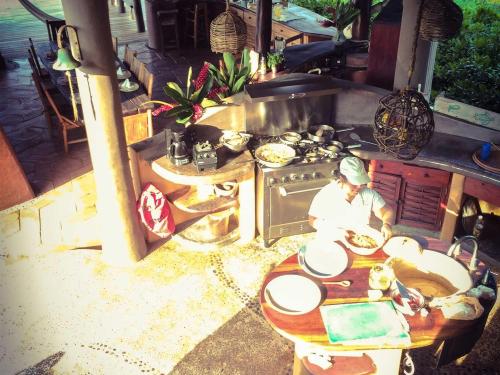 2. What is the food like at Playa Viva?

Playa Viva food is what we would describe as healthy Mexican. We focus on traditional Mexican meals but cooked with minimal oil and healthy and local ingredients trying to get as many organics as possible and growing as much food on site as we can (we have a 3 acre farm). When booking your reservation please let us know of any dietary concerns. We are able to accommodate a wide variety of allergies, vegan, vegetarian, "fishetarian", omnivore and even Kosher. Examples of a day's menu might be: breakfast with oatmeal, local fruit such as papaya, melon, watermelon, pineapple with yogurt (store bought and homemade), tortillas, fresh eggs, fresh orange juice, tea (from local herbs like mint, limon, etc.) and coffee (local and organic). Lunch might be sopes (hand made thick tortilla filled with beans and topped with lettuce, tomato, onion, etc.) with a fresh salad of tomatoes, nopalitos, verdolaga (purslane), maybe a vegetable soup and aguas frescas to drink. Dinner might include a tortilla soup, ceasar salad, fresh red snapper, a variety of vegetarian dishes and maybe some chicken taquitos. Snacks during the day might include frozen grapes, paletas (fresh fruit popsicles), organic popcorn, jicama/carrot/cucumber slices with lemon/salt/chile, or a margarita pizza with fresh tomatoes. These are sample menus, items will vary by day.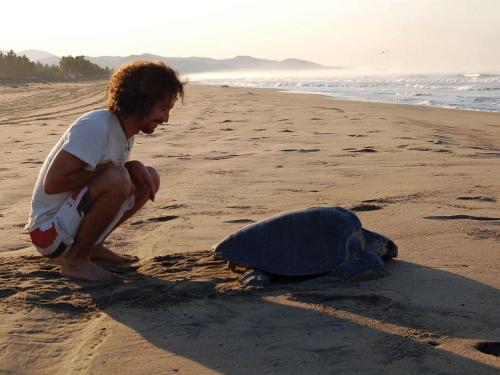 3. What type of recreational activities will I find in and around Playa Viva?

Playa Viva provides acres of options -- 200 acres to be exact. On site we will offer hiking, kayaking, boogie boarding, surfing, bird watching, swimming, yoga and just plain relaxing. We encourage guests to get involved in many of the community building activities from the Turtle Sanctuary and Preserve Restoration, to economic development and health care based activities with the local community and schools. In addition, the Archeological site provides opportunities for engagement as well. Many off-site activities abound including snorkeling, scuba, wildlife park visit, shopping, archeological sites, hikes and visits to restaurants and nightlife in Zihuatanejo/Ixtapa (separate fees may apply). We can even assist with golf and fishing excursions. For more information visit the Activities page.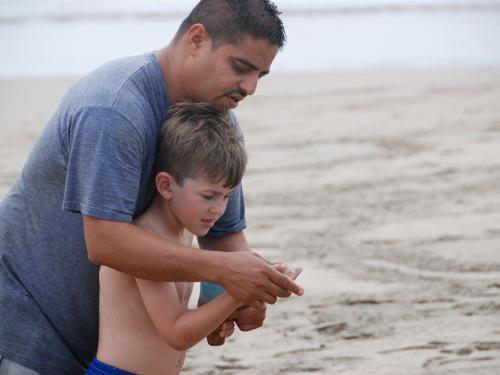 4. What is the policy for children at Playa Viva?

Children of all ages are welcome at Playa Viva. In fact, many of our activities, meals and facilities have been designed with children in mind. We ask that parents and children be respectful and mindful of other guests. Playa Viva is open to all families.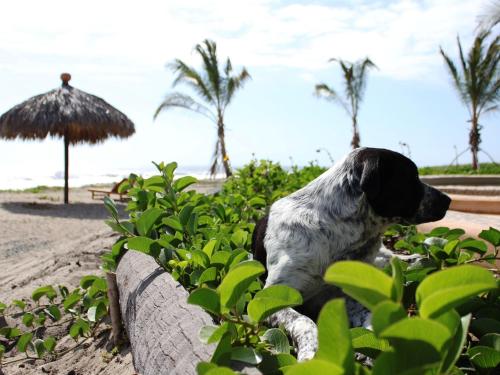 5. Does Playa Viva allow pets?

Pets are invited as long as they are as well behaved as their owners. Owners must clean up after their pets and make sure that pets are not posing any harm/threat to other guests including their pets. We assume that pets means dogs. Cats are more of a problem in that they often prey on local birds, lizards and other small fauna. Any animal that poses a threat to local wildlife will not be allowed to roam free on site.
6. Does the resort offer an Internet Connection or Wi-Fi? Internet access is available. We recently upgraded from the slower satellite to a faster DSL system that we get via wireless signal from the town of Juluchcua. The signal is good enough for checking email and even Skype calls, however we ask that you limit use to the essential. Why? We recommend you "disconnet to reconnect." We know it is important to stay connected sometimes in order to stay relaxed. Yet we challenge you to give us your divices upon arrival and attempt a "black hole" digital detox at Playa Viva.
7. Are safes available in each room? Yes, each room is equipped with a room safe opened only by the electronic PIN that you select. These have been provided for you to store your valuables such as documents, money, valuables, etc. and are large enough to fit a laptop. If you have trouble with your safe, please advise Julia Garcia, our General Manager and she can arrange to use our house safe until your safe is reset or repaired.
8. Does Playa Viva have laundry service? Laundry can be placed in a basket in each bathroom, all laundry will be washed, dried and folded and then placed back in your room. A laundry slip is available in each room for you to fill out and provide to housekeeping staff or Julia our General Manager. Clothes are line dried. If it is raining, laundry will be "taken to town for drying." We do not provide dry-cleaning service, but this can be arranged through Julia as required. Fees apply for laundry service and are on the laundry slip available in each room.
9. Does Playa Viva offer room service? Room Service is available during the operating hours of the kitchen/restaurant. A table can be set up on your room's porch, beach front or almost anywhere you want to enjoy a private meal. Private parties in the Common Areas can be arranged with the kitchen staff as well. One of our founding values is to foster community especially over the sharing of meals, but we understand the need to get a little privacy, especially for special occasions. Please make sure to provide staff with ample advanced notification related to these types of requests.
10. Does the resort have handicapped accommodations? Currently, none of our facilities are handicap accessible. We are in the building phase of our first handicap accessible room which will be a King EcoCasita. This King EcoCasita is scheduled to be completed for the opening of Season 7 in October of 2015. This room is located near the Common Area which is flat and, while not ADA compliant, is fairly accessible.
11. Is smoking permitted? Playa Viva strives to provide a healthy environment for all guests. At the same time we believe that every person should have the personal freedom to pursue their vices as long as they do not disturb others. So yes, you may smoke, we only ask that you follow a few simple rules. 1) Do NOT smoke inside any buildings, many structures are made of wood and other materials that are highly flammable. 2) Respect the personal space of non-smokers, smoke down wind or find a place to smoke away from non- smokers. 3) Do NOT leave cigarette buts on the ground, the sand or elsewhere other than in designated recycling and trash receptacles. Please clean up after yourself. 4) Please do NOT smoke within 50 feet of any building entry way. 5) Please respect smokers and nonsmokers alike.
12. What is your cancellation policy? All hotel guests are asked to provide a 20% non-refundable deposit to secure their reservation. If a guest needs to cancel for any reason with at least 30 days notice, your deposit will be applied towards a future stay. Guests who cancel with less than 30-days will have the entire amount billed (not just 20% deposit) applied as a credit towards a future stay within 1 year of the original reservation start date. Taking a page from Virgin American and JetBlue, if for any reason you need to extend your credit for a stay with us past one year, you can pay a nominal fee of $100 to extend the deposit for 1 more year.
13. Do you offer group discounts? Group discounts are available and generally are part of a planned group visit around a particular activity such as yoga retreat, holistic health seminars, workshop, camp, etc. If you are an instructor or agent interested in group discounts, please contact our reservation team for more information.
14. Do you have a business center? No, but we can provide some basic services through our front desk such as printing, faxing and copies. Otherwise, we are happy to arrange a taxi or other vehicle (at a fee) to shuttle you into Petatlan or Zihuatanejo to an internet cafe, stationery store, copy shop, etc. to help meet your immediate business needs.