Balancing Sustainability and Luxury Perfectly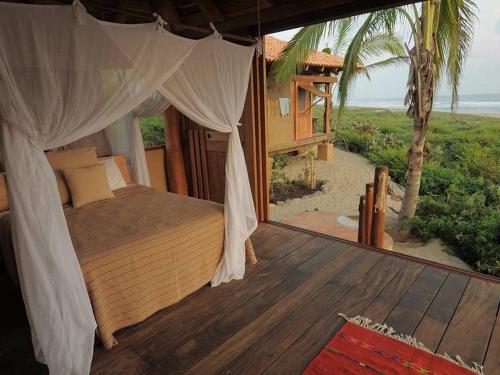 Playa Viva provides an all-inclusive experience that combines simple elegance and natural luxury. Our hospitality philosophy is based on a simple principle - making you feel at home (except you have no chores). Our motto is "Where Your Vacation Meets Your Values" which is based on aspiring to and achieving both the highest level of sustainability and hospitality.
How do we do this and what is the experience like?
Nature is the first ingredient in our secret sauce. We start with the invisible force that comes from being immersed in nature and the resulting personal transformation. Next, we add an all-inclusive experience because we sincerely dislike the feeling of being "nickel and dimed" - charged for every little thing - when we travel. Lastly, we fold in a mix of private and public spaces balanced perfectly to generate a sense of community between our guests, staff and the local community.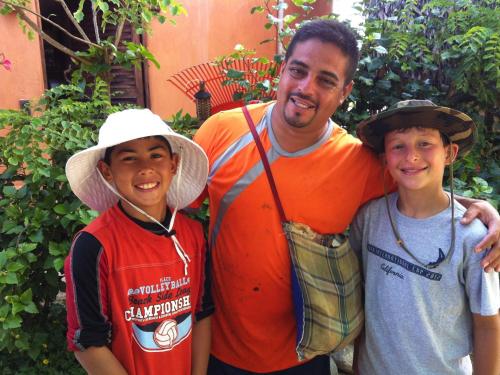 We achieve a sense of community by attracting a wide variety of guests from all ages and walks of life who share a common set of values. The artificial barrier between guests and staff is hopefully blurred. By the end of your trip you depart feeling as if you've been staying in your home and are leaving your friends behind. If we accomplish that then we have been successful.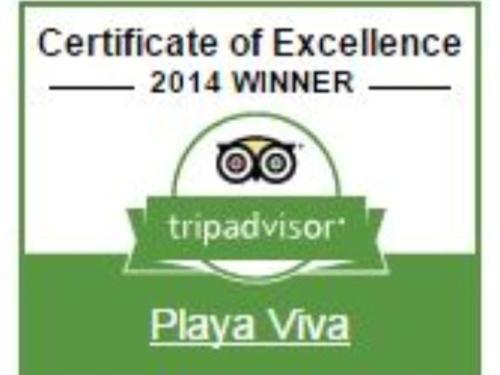 Our special blend of Eco-Luxury seems to be working, but don't take our word for it, read what our guests are saying about Playa Viva and the accolades we have received on TripAdvisor.
What's Included in Eco-Luxury Stay at Playa Viva
INCLUDED:
Airport ground transportation to and from hotel.*
Rooms outfitted with luxurious locally sourced organic sheets, towels, and soaps, organic shampoo, lotion and conditioner in your private bathroom.
All meals served family-style including breakfast, lunch, dinner with surprise snacks throughout the day and lots of organic and/or local ingredients from our farm-to-table program.
Daily yoga class and other complimentary activities on property.
Turtle Sanctuary and release of baby marine turtles when available.
NOT INCLUDED:
Airfare to and from Zihuatanejo/Ixtapa International Airport (ZIH)
Full bar including beer, wine, alcohol and local mezcal and special blended drinks such as our famous Organic Basil Margarita
Spa treatments including massage and other specialties of the individual practitioners.
Full set of excursions available through local providers including our most popular Sierra Excursion.
Transportation to local excursions.
Boutique purchases.
*Complimentary Airport Transport requires stay of 3 or more nights.
Upon Arrival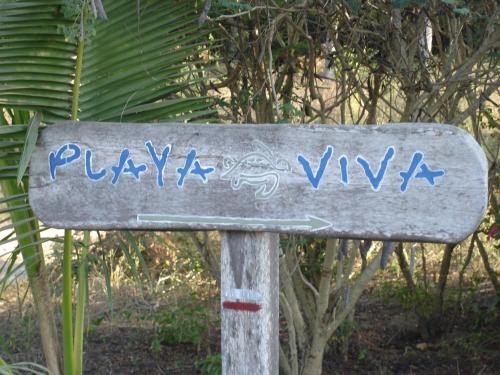 All* guests are received at the airport by local taxi service waiting for you with a "Playa Viva" sign. After being whisked away to Playa Viva you will be welcomed with a cold drink and a warm smile. Following a brief tour of the facilities and a quick review of the house rules, you will be escorted to your room where your luggage will be waiting for you. Make a quick change into your bathing suit for a dash to the ocean, as all rooms are ocean front. No traditional check-in, no key, since all rooms are open air, and you can't lock out nature.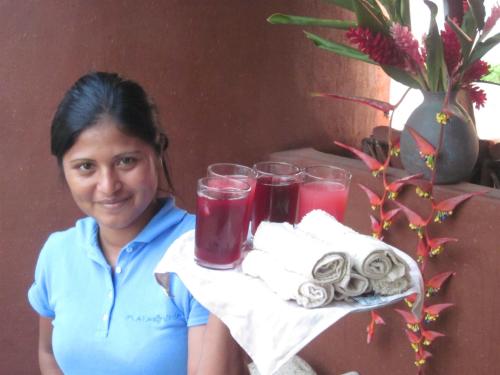 All guests will receive a pre-arrival kit by regular mail or email with details about ground transport, what to pack, and our participation in the
"Pack for a Purpose" and other social impact
program to assist local schools, health clinic and local community. A small boutique is located in the Common Area stocking sundry items and souvenirs.
200 Acres, Miles of Pristine Beachfront and Common Areas
In a landscape rich in natural capital, the quality of the experience still comes down to one thing - service. Playa Viva guests enjoy year-round access to all the amenities and services expected of a five-star luxury resort with the additional luxury of being surrounded by hundreds of acres of natural habitat lined by miles of pristine beachfront. Balance of private and public spaces means we encourage you to move from your room to the Common Area and meet like-minded travelers and make new life-long friends.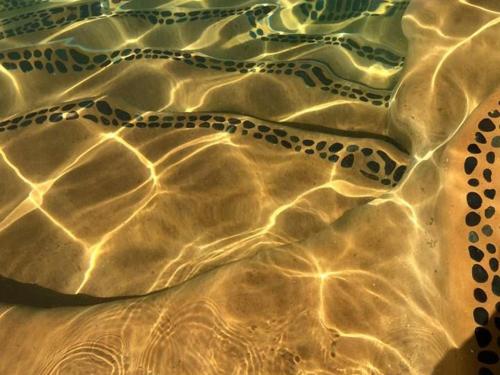 The Playa Viva Pool is the centerpiece of the Common Area. The water is non-toxic using locally harvested salt and an ionizer to turn sodium chloride into a natural chlorine. The water is no saltier than your tears and gentle on your skin. A third of the pool is shallow and meant specifically for small children to play and test their boundaries. We have had many children learn how to swim in the Playa Viva pool.
Meals are a Communal Experience - Local, Organic, Healthy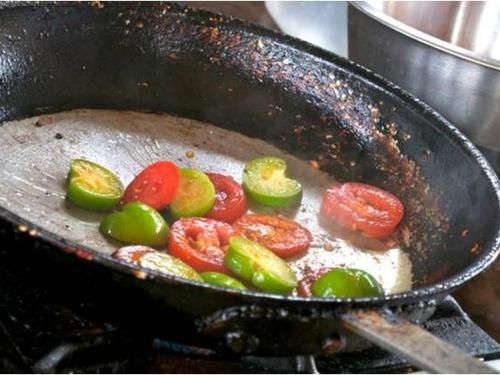 Some guests think of the kitchen as the heart, or at least the stomach, of Playa Viva. The open air kitchen and our cooking staff invite you to participate in preparing meals and learning how to cook your favorite Playa Viva specialties including simple items such as handmade tortillas or the more complex dishes such as mole. All meals are served family style as we ask you to enjoy sharing meals with your fellow guests. If you ever want to have a private meal for any reason, please let our staff know and it will be arranged accordingly.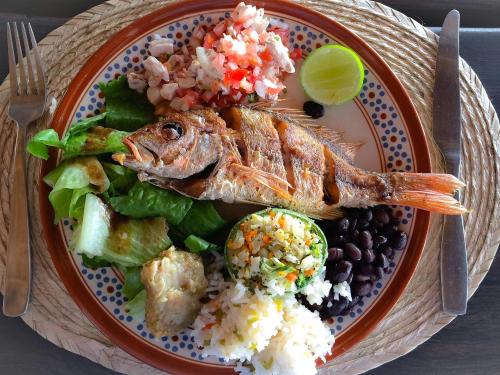 Every effort is made so that you can enjoy healthy and organic food. Our chefs prepare wholesome, delicious meals, based on local recipes designed for the modern healthy palate. Herbs and vegetables are harvested from the hotel's organic vegetable gardens, tended by farmers from local communities. Free-range game and fish, grass-fed beef (as available) and vegetarian cuisine will provide healthy and memorable dining. We can cater to a variety of diets from vegan to gluten or sugar free with special attention to any allergies. Your dietary concerns will be part of the room registration process.
Please Do Not Overschedule Your Vacation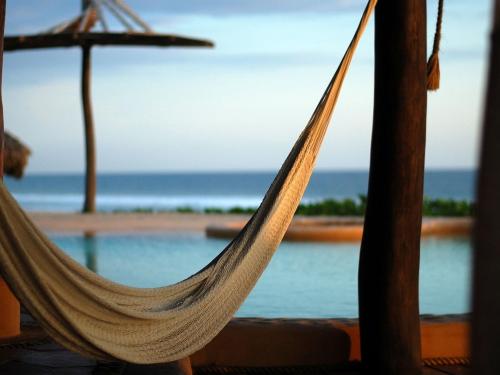 First, don't book any activities until after you arrive. Our lives are over-scheduled as it is, so the only thing you need to schedule prior to arrival is just to get here. We recommend 24-48 hours to
decompress and immerse
in nature. Once the Playa Viva vibe kick's in (and it will), then, and only then, will it be a good time for you to schedule your choice of
activities
with your new best friend
Johnny, Head of Activities.
Complimentary Yoga in Morning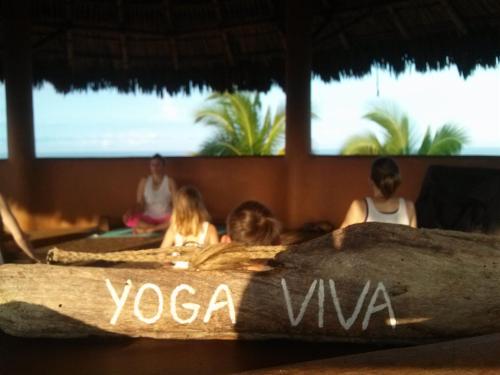 Complimentary yoga is offered every morning except Sundays (or one day a week) depending on the schedule of your Hosts. Yoga is generally available in the observation tower or sometimes poolside. We do our best to accommodate all levels from beginners to experts. We can also arrange a one-on-one class or special class as desired. Talk to your Host upon arrival for more details.