What Type of Traveler Are You?
Playa Viva works for a variety of guest types from the most active to those who just want to relax and get away from it all.
The following is a sampling of what your stay would be like based on the different traveler types: families with children, couples and honeymooners, singles, yogis, surfers and groups of all kinds.
Families with Children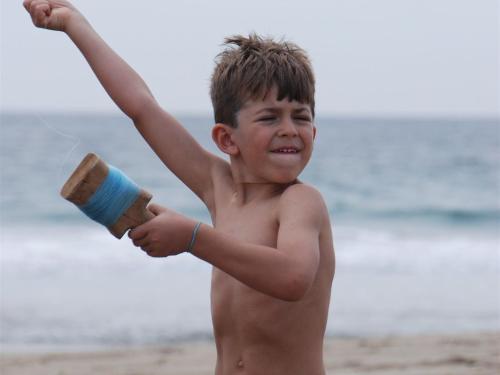 Playa Viva was created with children of all ages in mind. We believe in the concepts behind Stephen Louv's book, Last Child in the Woods: Saving our Children from Nature Deficit Disorder. If your children are anything like ours, they will spend the majority of their time in the pool, the ocean or building sand castles, trying to catch the sand crabs, releasing baby turtles and captivated by the surprises in store. Johnny, Head of Activities, will be teaching them to bait a hook and cast a line from shore or organizing a game of beach soccer or volleyball.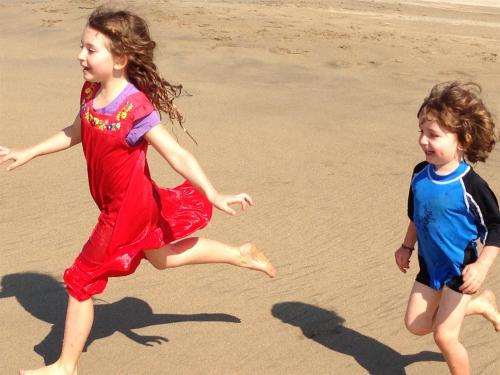 They may start out shy but become fast and furious friends with other children at Playa Viva engaging in some of the games available on site and inventing their own. We invite you to pick up the complimentary Field Guide in your room and explore one of the paths to see how many different types of birds and butterflies you can identify.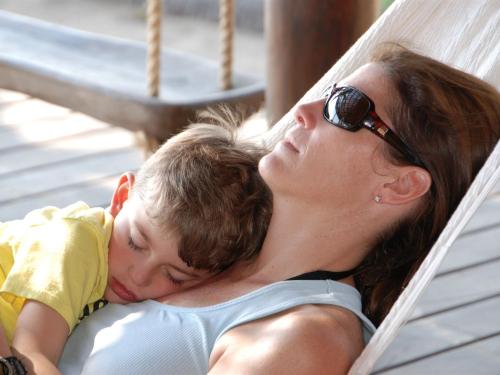 For small children, a babysitter can be arranged (for a nominal fee) so you can enjoy morning yoga, a private stroll down the beach or a few moments in the hammock reading. Many of our excursions are just right for families with kids of all ages. One-third of the pool is shallow and perfect for small children. We recommend you make a "no screen time" pledge and turn in all screens to our GM for safe keeping in the Playa Viva safe until it's time to go.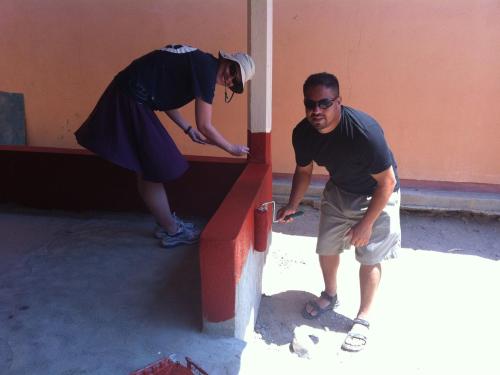 We also invite you to participate in a voluntourism project. If you are so inclined, please inquire in advance as these require preparation for participation. Even if you do not schedule anything, we offer many opportunities for your children to engage in the local community where they can learn how children live in another culture. We often have volunteers at Playa Viva engaged in community projects and they will be more than happy to have you join them.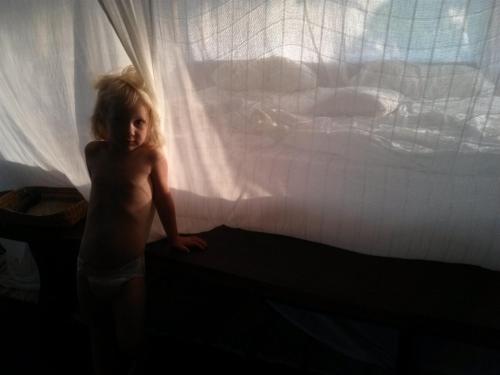 The best rooms for families are our suites, the Private Casita or Deluxe Suite, each with a King Bed and a trundle bed (two single beds). A porta-crib can be added to any room. For families larger than 4 or with older children, we recommend our Two Bedroom Suites which are a combination of a Deluxe Suite and a Studio, adjoining rooms separated by a door.
Couples and Honeymooners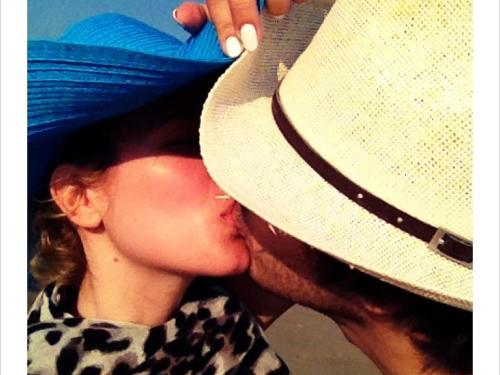 For the ultimate in privacy we recommend the Private Casita, which is the equivalent of our honeymoon suite. We also recommend the EcoCasitas, our newest rooms. Each is an isolated building with a Queen bed, private bathroom and sliding walls/doors that open to a 180-degree beachfront view. The doors can also be closed for perfect privacy.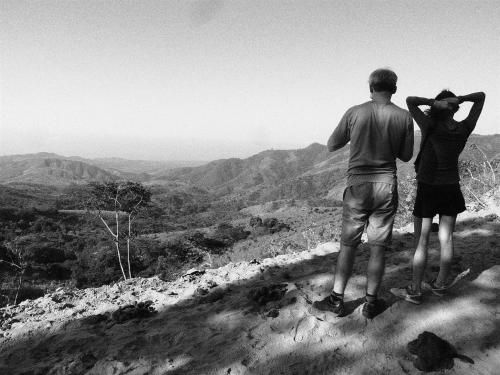 For activities and excursions, plan on joining morning yoga, take a romantic walk on the beach, learn a little about local culture at the archeological museum, take the local tour with Johnny, try horseback riding on the beach, and a must do "couples massage." Be sure to go on the Sierra Excursion to the Gutierrez farm. End the evening at the bar with Johnny and his famous Basil Margarita and then plan activities for the next day.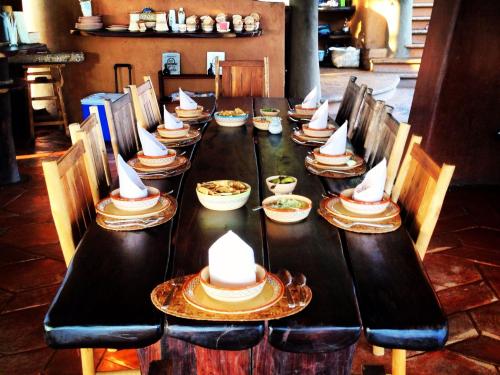 If you are anything like us, while you love your partner and enjoy traveling together, you might also want to meet new people who share the same taste in hotels as you. Rather than entering a dining room with a bunch of tables for two, Playa Viva's family-style dining room allows you to meet other guests easily. We have had many guests tell us that they have made new long lasting friendships with other guests they met at Playa Viva.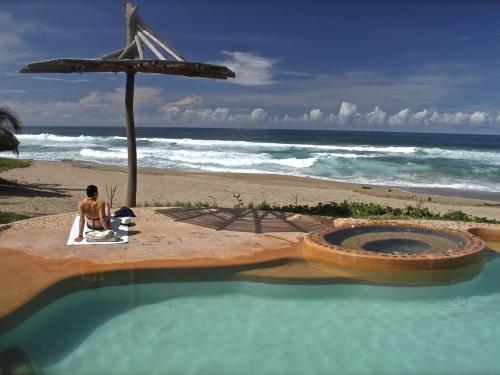 We don't have a separate kids pool and adult pool, everyone is part of one big happy community. Yet we do provide plenty of places for privacy from the communal spaces. If you do want a private table or to arrange a special celebratory (honeymoon, birthday, anniversary, engagement, etc.) couple's meal, please let us know at anytime. The nicest part about Playa Viva is the complete privacy that we provide for you and your partner to enjoy nature, peace and quiet with no judgment.
Singles
We are constantly surprised at the number of singles, especially professional women, who find their way to the privacy and peace of Playa Viva. Many come to take a break from hectic work or schooling and completely decompress. This often starts with yoga and massage, walks on the beach and shopping trips to the town of Juluchuca and Petatlan. You are never alone at Playa Viva, from the moment you arrive, you are received into the community, especially when you sit down for meals, which are served family style, where you will make instant friends.
Adventure Traveler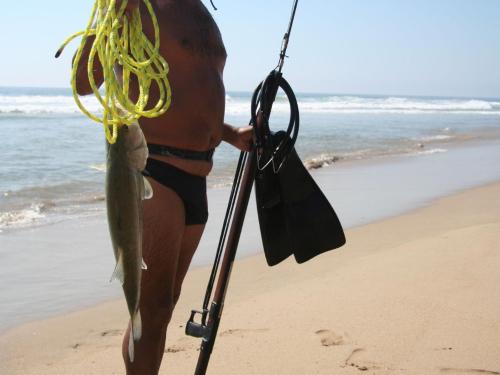 Whether arriving as a single, a couple or a family, Playa Viva has plenty of options available for the adventure traveler. Playa Viva's 200 acres are open for exploration. There you can discover a magnificent array of flaura and fauna. Some of the more difficult species to spot include whitetail deer, coatis (tejones), crocodiles and more.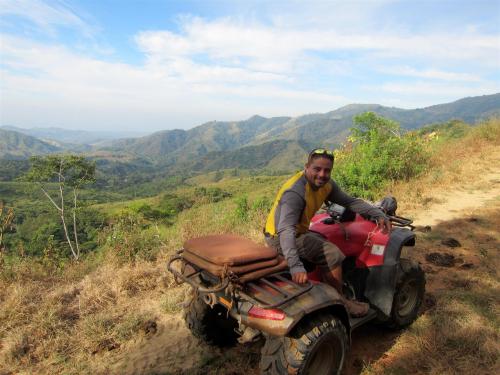 The Sierra Tour up the watershed by 4x4 is a favorite of all, and heading out with the turtle sanctuary volunteers during their night patrols is also a great adventure. Rounding off the list of off-site excursions are deep sea fishing, scuba, snorkeling and surfing expeditions. Johnny, Head of Activities, will also teach you how to shore fish with line, net or spear.
Yogi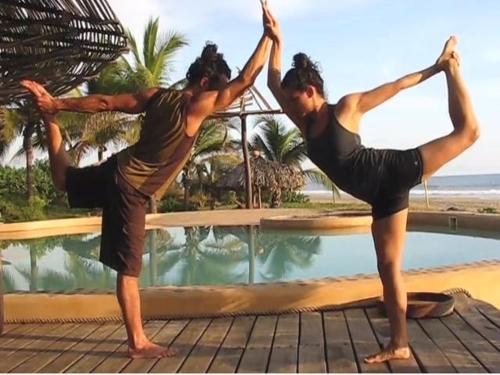 For those looking for an immersive Yoga experience, Playa Viva has several opportunities, especially if you join one of our yoga retreats / workshops. Playa Viva includes morning yoga for every guest and if you want to add an additional one-on-one session with our instructor, they will be happy to accommodate your special requests. The Yoga platform is fully outfitted with Manduka mats, blocks and straps, plus blankets and other materials are available as well.
Surfer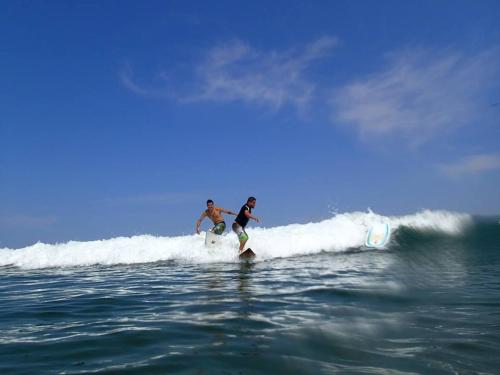 While the beach in front of Playa Viva is a "close out beach" we are just a short 15km drive to Loma Bonita, one of the best advanced surfing spots in all of the coast of Guerrero. In addition, we have a great surf guide, Chimi, who knows the best breaks, swells, and currents, based on the time of year, to match your surf ability.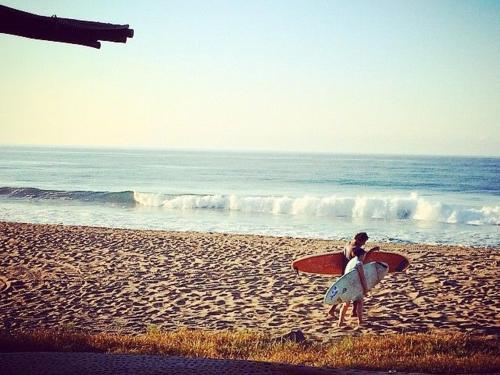 We have several outstanding breaks for beginner, intermediate, and advanced surfers ranging from 15 minutes to 1.5 hours away. Surf instructions are also available. Johnny, Head of Activities, and Abraham, our chef, will both be happy to have you join them during their breaks for a little surfing.
Group - Retreats, Workshops and Special Events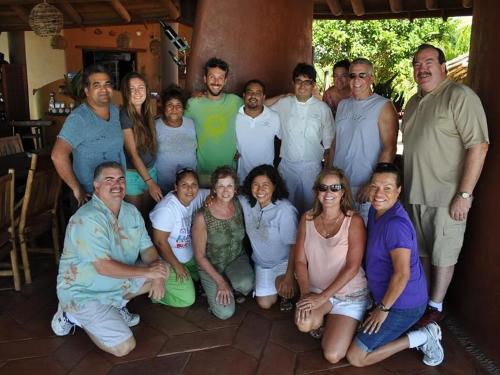 Playa Viva is perfect for wellness and yoga retreats, workshops, weddings, anniversaries, board meetings, family reunions, etc.. The isolated intimate setting is perfect to escape from your daily routine and create the special bond required for group events. Activities can be arranged for the group and the kitchen staff can prepare something exquisite for your special event. Best of all, our Group Concierge will assist with all logistics from assisting with flights to arranging for flowers. Make sure to reserve now as ALL (or most) of Playa Viva requires advanced bookings
Playa Viva is here to craft the vacation to meet your goals: explorer, volunteer, foodie, nature lover, surfer, yogi, family, friends, workshop, reunion or other. As long as you are into the natural luxury and simple elegance that Playa Viva has to offer, we can pretty much predict, based on past guest comments, that you will love it.