November 17-24, 2017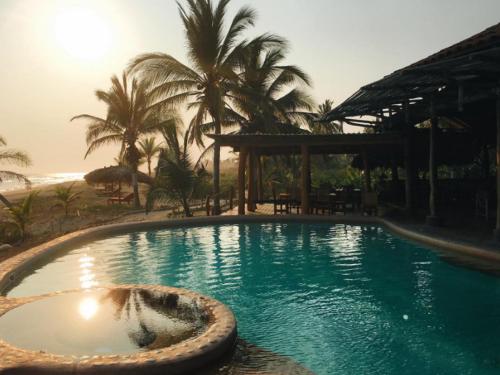 Rest and explore in your days, framed by two yoga practices a day
with Kristin Jostad
of Yoga Passage Calgary
We all need wild places to regenerate our souls. Revive your mind, body and spirit as you indulge in a weeklong getaway. This retreat led by Kristin Jostad will combine daily yoga, healing, gourmet meals and excursions. So much of our time and energy is filled with to-do lists, activities and deadlines--often leaving us with little time for peace and reflection. It is important to take a break from the routines, hold space for ourselves and the practice of self-care, relaxation and spending time with friends.
What to expect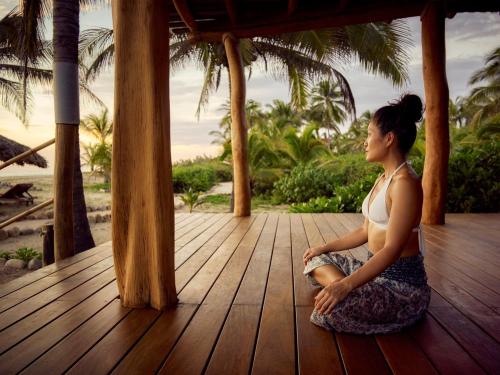 Come to Playa Viva to experience your days filled with renewal, exploration and reflection framed by two yoga classes a day. One strong vinyasa power flow in the morning and a softer restorative class in the evening. Yoga Nidra will also be offered. You deserve your renewal time! Commit to your practice and your own personal growth and freedom in a beautiful retreat setting.
What's Included
Beachfront accommodations, including all taxes (7 nights and 8 days)
Roundtrip Airport Ground Transfers (fly into Ixtapa/Zihuatanejo - ZIH)
All meals: mostly organic and local ingredients, mostly vegetarian with fish options, deliciously healthy and *amazing*, home-cooked 3 times a day by an amazing house chef
Unlimited fresh tropical juices, coffee, tea and healthy snacks (full bar available with purchase)
Daily power and restorative yoga practices with Kristin in a tropical setting where the ocean and mountains/jungle are your backdrop! (mats & props provided)
On-site excursions (hiking, turtle sanctuary, lagoon, etc. - no extra charge)
International airfare and travel insurance is NOT included and must be purchased individually (fly into ZIH - Zihuatanejo-Ixtapa International Airport).
Additional charges also apply for bar drinks, smoothies, massage/spa services, gratuities and optional donation to sea turtle sanctuary.
Pricing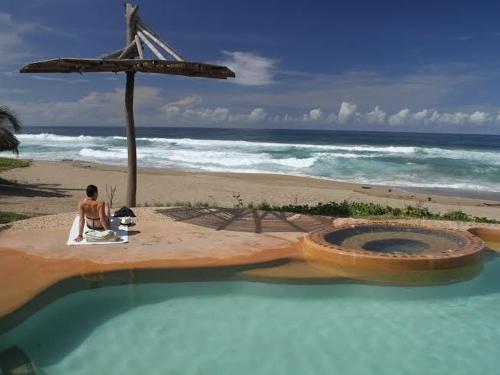 Rates range from US$1600 to US$2325 for double or single occupancy and include taxes (see above).
All prices are per person. To see descriptions of the different room types go here.
To enroll
To make a reservation, please email kristin@yogapassage.ca
If you have any questions you may also email leigh@playaviva.com or call (U.S.) 1-800-397-6093, extension 2
About Kristin
Kristin Jostad, a yoga teacher and student of over 12 years, is the owner of a popular downtown studio in Calgary, Alberta, Canada. She is continuously expanding her education to offer her students a wide variety of yoga. Having studied with globally known teachers such as Shiva Rea, Seane Corn, Mark Stephens, Janet Stone and Ryan Leier, her teaching technique is rooted in the vinyasa tradition. Her love for yoga began as an interest in body movement. What has kept her attention is the revealing of personal truth from within. Her dedication in the practice has manifested a beautiful trusting of the unknown.
Her classes speak to connection to yourself and what that truth speaks of. Aiming to strengthen our self-love game, and in turn elevating our own healing capacity to become clear vessels of possibility.
"Kristin Jostad brings life to each practice and consistently creates a warm and friendly atmosphere that is unlike any other class I have been too. She steadily challenges physically and mentally while maintaining a light atmosphere and I leave each class feeling awakened, alive, and happy. Her unwavering passion and deep knowledge of yoga come through and are evidenced by how seamlessly she delivers every single class. Kristin shows a genuine care for all those that attend her classes and is always willing to help anyone take their practice further. I enjoy every single class!"
-Kiersten Mohr